The Last Right in cinemas Friday 6 December
---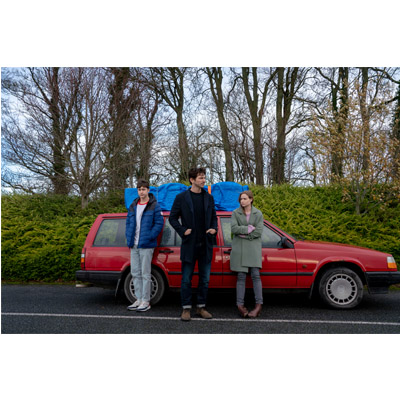 Date Posted: December 5, 2019
Partly filmed on location on Rathlin Island with funding from Northern Ireland Screen, The Last Right is released in cinemas nationwide tomorrow, Friday 6th December.
Written and directed by Aoife Crehan and starring Colm Meaney and Brian Cox, the road movie follows New York-based Daniel Murphy (Michiel Huisman) who is on the flight home to Ireland for his mum's funeral. When the elderly passenger sitting beside him dies, he ends up being tasked with bringing the body of someone he barely knows home for burial with his family.
In a bid to persuade his autistic brother Louis (Samuel Bottomley) to return to New York with him, Daniel agrees to take on the challenge of getting an environmentally friendly cardboard coffin from his family home in Clonakilty to Rathlin Island. Hitching a ride in the passenger seat is the funeral home temp Mary (Niamh Algar), who is on a mission to correct a drunken mistake. By the time they reach their destination their lives have changed forever when romance and family secrets emerge to complicate the trip.
The Last Right had its world premiere at the Cork Film Festival in November where it picked up The Audience Award.
The Last Right is produced by Paul Donovan for Deadpan Pictures and Pippa Cross for CrossDay Productions.