The Journey released in cinemas Friday 5th May
---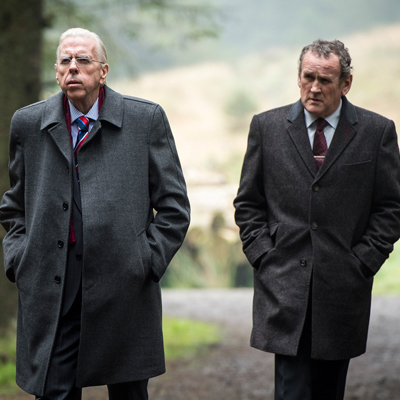 Date Posted: April 28, 2017
Next week sees the UK and Ireland cinema release of The Journey. The film has its UK & Ireland premier on Thursday 4th May before going on general release on Friday 5th May.
The Journey, which had its world premiere at the Venice Film festival, was funded by Northern Ireland Screen via Invest NI.
The film is a dramatic comedy inspired by a major turning point in British and Irish history. The feature film focuses on the improbable friendship between two political titans, and implacable enemies. Ian Paisley (Timothy Spall) and Martin McGuinness (Colm Meaney) are forced to take a short physical journey, but a huge leap of faith. The future of Northern Ireland is at stake as these two sworn enemies are asked to put their past actions behind them and begin to forge a bond of mutual respect (and humour!).
The stellar cast includes Toby Stephens (Believe, The Machine, Severance), Freddie  Highmore (The Golden Compass, The Spiderwick Chronicles) and Oscar-nominated John Hurt (Tinker Tailor Soldier Spy, Hercules, The Elephant Man). Nick Hamm (The Hole, Killing Bono) directs, from a script by Colin Bateman.
The Journey can be seen in the following Northern Ireland cinemas from Friday 5th May:
Brunswick Movie Bowl
Eclipse Downpatrick
IMC Ballymena
IMC Enniskillen
Movie House Dublin Road
Movie House Yorkgate
Odeon Belfast
Odyssey Belfast
Omniplex Bangor
Omniplex Derry
Omniplex Kennedy Centre
Omniplex Newy
Queens Film Theatre