The Irish language magazine series, I Lár an Aonaigh, returns to BBC Two Northern Ireland
---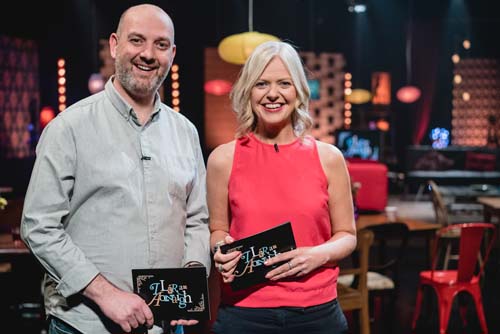 Date Posted: November 9, 2018
The Irish language magazine series, I Lár an Aonaigh, returns to BBC Two Northern Ireland on Monday 12th November at 10pm.
I Lár an Aonaigh is a Below The Radar TV production for BBC Gaeilge with funding from Northern Ireland Screen's Irish Language Broadcast Fund.
Presenters Máire Bhreathnach and Dáithí Ó Muirí are joined by Lynette Fay, Conall Ó Máirtín and Seán Ó Baoill with a mix of stories, chat and some great musical performances.
This six part series will include a variety of special guests including Jim Lockhart from Horslips, writer Dave Duggan, musician Gerry O'Connor, poet Ciara Ní É, sports journalist, Máire Treasa Ní Cheallaigh and writer and publisher Tadhg Mac Dhonnagáin.
Once again there will be a great mix of music, from traditional to pop, to indie and soul. We'll hear from contemporary folk duo, Lemoncello, Donegal singer-songwriter, Little Hours, Trad group Skipper's Alley, Derry's own Roe and some soul from Síomha and the electro-pop band Vokxen from Co Antrim.
Extra tracks recorded by each of the artists will be available to watch online at here or via the BBC Gaeilge Facebook page.
Series Producer Máire Bhreathnach said: "It's great to be back with another series of I Lár an Aonaigh. We have some really great home-grown musicians featuring again this series and a wide range of interesting stories, everything from the story of the Suffragettes, to the levels of plastic pollution in our oceans, to the background of the Apollo 8 mission."
---
Sraith irischlár Gaeilge, I Lár an Aonaigh, ag filleadh ar BBC Two NI
Beidh an tsraith irischlár Gaeilge, I Lár an Aonaigh, ag filleadh ar BBC Two NI Dé Luain, 12 Samhain ar 10 i.n..
Is léiriúchán teilifíse de chuid Below The Radar é I Lár an Aonaigh a rinneadh do BBC Gaeilge, le maoiniú ó Chiste Craoltóireachta Gaeilge Scáileán Thuaisceart Éireann.
I gcuideachta na láithreoirí, Máire Bhreathnach agus Dáithí Ó Muirí, beidh Lynette Fay, Conall Ó Máirtín agus Seán Ó Baoill, le meascán scéalta, seanchais agus ceoltóirí den scoth.
Beidh réimse aíonna speisialta sa tsraith sé chlár, lena n-áirítear Jim Lockhart ó Horslips, Dave Duggan, scríbhneoir, Gerry O'Connor, ceoltóir, Ciara Ní É, file, Máire Treasa Ní Cheallaigh, iriseoir spóirt, agus Tadhg Mac Dhonnagáin, scríbhneoir agus foilsitheoir.
Mar a bhí i ngach sraith eile, beidh meascán iontach ceoil ann: ceol traidisiúnta agus popcheol, ceol indie agus anamcheol. Cluinfidh muid ó Lemoncello, dísréad comhaimseartha ceol tíre, Little Hours, an t-amhránaí agus cumadóir amhrán ó Thír Chonaill, Skipper's Alley, grúpa traidisiúnta, an banna Roe ó Dhoire agus an banna leictrea-phopcheol Vokxen as Co. Aontroma.
Beidh rianta breise le gach ceoltóir agus banna ar fáil le breathnú ar líne ar bbc.co.uk/gaeilge nó trí leathanach Facebook BBC Gaeilge.
Arsa Máire Bhreathnach, léiritheoir na sraithe: "Is breá an rud é bheith ar ais le sraith eile de I Lár an Aonaigh. Tá ceoltóirí áitiúla den scoth againn sa tsraith seo arís agus tá réimse scéalta spéisiula againn, gach rud ó scéal na Sufraigéidí, go leibhéil an truaillithe sna haigéin, go dtí cúlra mhisean Apollo 8."