ILBF series with Sam Henry airs on TG4
---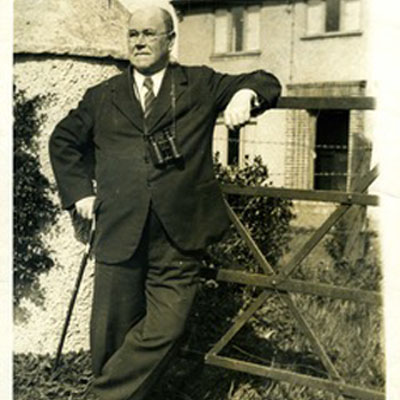 Date Posted: September 16, 2019
Sam Henry – Saol's Saothar explores the unique story of the Coleraine man and his remarkable music collection – Songs of the People – that is often referred to as 'a hidden Ulster jewel' and a century later, remains hugely important to folk artists around the world.
This two-part series, comprising of a documentary and concert starts on TG4 on Sunday 22 September at 9:30pm and has been supported by Northern Ireland screen, through the Irish Language and Ulster-Scots Funds. The programmes look at the man behind the music and how his passion for preserving the past produced a diverse collection of over 800 songs that is unique to Ulster and recognised internationally as one of the most important in the English language.
Sam Henry began collecting songs and taking photographs while working as a customs and pensions officer. Travelling around small farms and villages, he carried a fiddle and played music to put people at ease, recognising there was a wealth of stories and songs to be shared.
In this revealing documentary, folklorists, archivists and contemporary music collectors, examine how Sam's pioneering approach – in an official capacity and later when song-collecting – placed him at the heart of rural communities and inspired his greatest work.
Sam appreciated the diverse cultural heritage of local communities and their traditions and looked for an outlet to share the huge collection of material he had gathered. Between 1923 and 1937 he wrote a column for the Northern Constitution publishing the continuing series Songs of the People.
In his own words, Sam said the aim was to "search out, conserve, and make known the treasures of the songs of the people".
The second programme, Sam Henry – Ceiliúradh Ceoil is a concert celebrating Sam Henry's vast and diverse song collection with performances from folk artists including Andy Irvine, Cup O'Joe, Pauline Scanlon and Scottish folk singer Hannah Rarity. The concert will be broadcast on TG4 on Sunday 29th September at 9:30pm.
Songs of the People captured everyday life in the early twentieth century and gives us a fascinating insight into the past, reflecting both the Ulster-Scots and Irish traditions that made the northwest, where Sam Henry lived, so unique.
Sam Henry – Saol's Saothar is a Sonas Productions and Below The Radar TV co-production made for BBC Gaeilge and TG4 with support from Northern Ireland Screen.
---
Sraith an CCG Sam Henry – Saol 's Saothar ar TG4
Sa chlár seo Sam Henry – Saol 's Saothar  fiosraítear scéal uathúil Sam, arbh as Cúil Raithin é, agus a chnuasach iontach ceoil – Songs of the People – ar a dtugtar go minic 'seoid fholaithe Ultach'. Céad bliain níos moille tá tábhacht ollmhór leis an chnuasach seo ag lucht ceol tíre timpeall na cruinne.
Is sraith dhá chlár seo a bhfuair maoiniú ó Chiste Craoltóireachta Gaeilge agus ó Chiste Craoltóireachta  Albanais-Uladh Scáileán Thuaisceart Éireann. Clár faisnéise agus ceolchoirm atá ann a thosaíonn ar TG4 Dé Domhnaigh 22 Meán Fómhair ar 9.30in. Breathnaítear ar an fhear taobh thiar den cheol agus de thairbhe na dúshuime a bhí aige i gcaomhnú an ama atá caite, mar a cruthaíodh cnuasach ilchineálach de bhreis agus 800 amhrán a bhaineann go sonrach le hUltaibh agus a aithnítear go hidirnáisiúnta i measc na gcnuasach is tábhachtaí sa Bhéarla.
Thosaigh Sam Henry ag cruinniú amhrán agus ag tarraingt grianghraf agus é ag obair mar oifigeach custaim agus pinsin. Bhíodh sé ag taisteal thart ar fheirmeacha agus sráidbhailte beaga, fidil leis agus é ag seinm ceoil le daoine a chur ar a suaimhneas. D'aithin sé go raibh stór mór scéalta agus amhrán ann arbh fhiú iad a roinnt.
Sa chlár faisnéise seo fiosraíonn agus nochtann béaloideasóirí, cartlannaithe agus bailitheoirí ceoil na linne seo modh oibre ceannródaíoch Sam – ina shaol oibre agus níos moille agus é ag bailiú amhrán – agus mar a glacadh leis i gcroí na tuaithe agus mar a spreagadh an saothar is mó aige.
Bhí meas ag Sam ar oidhreacht ilchineálach chultúrtha na bpobal áitiúil agus ar a gcuid traidisiún agus chuardaigh lucht éisteachta leis an chnuasach ollmhór ábhair a bhí bailithe aige a roinnt leo. Idir 1923 agus 1937, scríobh sé colún don Northern Constitution inar foilsíodh sraith leantach de Songs of the People.
Mar a dúirt Sam féin, ba é an aidhm a bhí aige ná "stór luachmhar amhráin an phobail a aimsiú, a chaomhnú agus a chraobhscaoileadh."
Is ceolchoirm é an dara clár, Sam Henry – Ceiliúradh Ceoil, ina ndéantar ceiliúradh ar chnuasach fairsing, ilchineálach Sam. Cluinfear réimse de cheoltóirí lena n-áirítear Andy Irvine, Cup O'Joe, Pauline Scanlon agus an ceoltóir Albanach Hannah Rarity. Craolfar an ceolchoirm Dé Domhnaigh 29 Meán Fómhair ar 9.30in.
Thug Songs of the People léargas iontach ar an ghnáthshaol go luath san fhichiú haois agus ar an am atá caite. Léiríodh ann dhá thraidisiún, idir Ultais agus Ghaelach, an Iarthuaiscirt, áit a raibh cónaí ar Sam.
Is comhléiriú de chuid Sonas Productions and Below The Radar TV é Sam Henry – Saol 's Saothar, a rinneadh do BBC Gaeilge agus TG4 le tacaíocht ó Scáileáin Thuaisceart Éireann.