IFTA Nominations Announced for the IFTA Film & Drama Awards 2017
---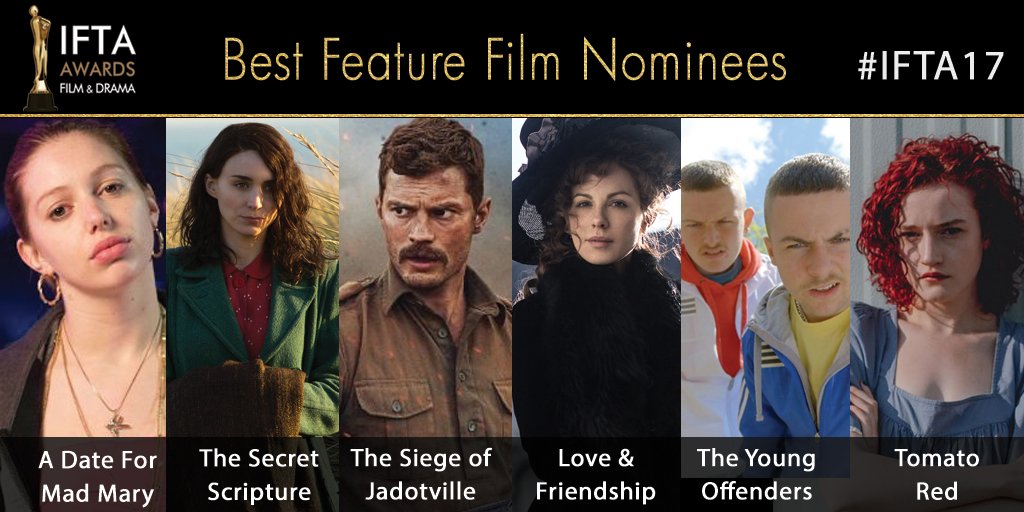 Date Posted: March 8, 2017
Congratulations to the Northern Ireland talent nominated at this year's Irish Film and Television Awards (IFTA). The countdown begins for the Irish film industry's biggest night of the year, acknowledging and rewarding the industry's great work and achievements in this Golden Age of Irish Cinema, at the annual Awards Ceremony taking place at the Round Room of the Mansion House on Saturday 8th April 2017.
The Academy will welcome 500 guests from across the world of Film & Drama, all coming together to celebrate the continued great work and success of Ireland's home industry and to celebrate Michael Gambon's Lifetime Achieve Award.
Nominations have been shortlisted by Irish Academy Members alongside a specialist Jury panel of industry experts from around the world.
Academy CEO, Aine Moriarty stated that: "These great Irish Nominees are a testament to the hard work and achievements by Irish creative talent within the film and television industry, delivering world-class standards of work and we look forward to showcasing and celebrating their achievements at the Awards Ceremony".
A list of the Northern Ireland nominees can be found below below:
ACTRESS SUPPORTING ROLE – FILM
Charleigh Bailey, A Date for Mad Mary
Susan Lynch, Bad Day for the Cut
Simone Kirby, Notes on Blindness
Hilary Rose, The Young Offenders
Fiona Shaw, Out of Innocence
DRAMA
An Klondike
The Fall 3
Game of Thrones
Smalltown
Striking Out
Vikings
SCRIPTWRITER – DRAMA
Gerard Barrett, Smalltown
Barry Devlin, My Mother and Other Strangers
Marcus Fleming, An Klondike
James Phelan, Wrecking the Rising
ACTOR IN A LEADING ROLE – DRAMA
Dara Devaney, An Klondike 2
Cillian Murphy, Peaky Blinders
James Nesbit, The Secret
Aidan Turner, Poldark
Tom Vaughan-Lawlor, Trial of the Century
ACTOR IN A SUPPORTING ROLE – DRAMA
Liam Cunningham, Game of Thrones
Ned Dennehy, An Klondike 2
Moe Dunford, Vikings 4
Andrew Scott, The Hollow Crown
Robert Sheehan – Fortitude
GEORGE MORRISON FEATURE DOCUMENTARY
Atlantic
Bobby Sands 66 Days
In Loco Parentis
It's Not Yet Dark
Mattress Men
ORIGINAL SCORE
David Holmes, The Fall
Steve Lynch, An Klondike 2
Patrick Cassidy, Smalltown
Brian Byrne, The Secret Scripture
SOUND
Game of Thrones
The Siege of Jadotville
Tomato Red
Without Name
VFX
Black Sails
Game of Thrones
Ripper Street
The Siege of Jadotville
A full list of all the nominees can be found here.