An Engineer Imagines preview screening at QFT
---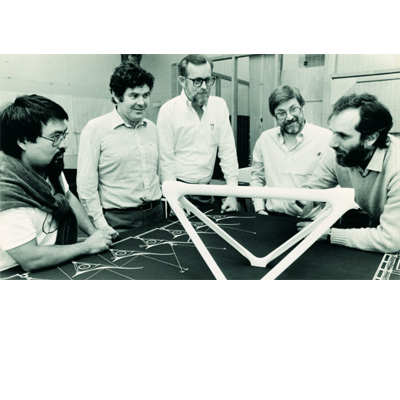 Date Posted: February 22, 2019
An Engineer Imagines is a cinematic homage to the life and ideas of Peter Rice widely regarded as the most distinguished engineer of the late twentieth century. Without his innovations and collaborations with the leading architects of his time, some of the most recognizable buildings in the world would not have been possible. The film traces Rice's extraordinary work, from his native Ireland through, London, Sydney and Paris, to his untimely and tragic death in 1992.
Directed by 2014 BAFTA Award- winning cinematographer and director Marcus Robinson, the film is a visual crie de couer to a visionary designer. Boasting the director's trademark, spectacular time-lapse photography, the film brings Rice's inspiring creations to life to give a real sense of being located in the present day, almost as if Rice were still alive. Marcus Robinson describes the filmmaking process, "Filming and directing this homage to one of the world's greatest structural engineers has been a moving and life affirming experience. It is as though at every step of the way, we have been guided by the transcendent spirit of Peter Rice, brought to life by the loving words of those who knew him best and by the extraordinary buildings that bear his innovative touch."
Through a series of interviews with former colleagues, family and friends, interwoven with the stunning time-lapse photography, we unfold the remarkable story of one of the great minds of the twentieth century; how man pushed the boundaries of art and science to achieve the unimaginable. A genius who stood in the shadow of architectural icons. Until now.
An Engineer Imagines is a Fine Point Films and Igloo Films co-production film, funded by Screen Ireland, Northern Ireland Screen, the Broadcasting Authority of Ireland and the BBC.
A special preview screening of An Engineer Imagines will take place in QFT on Tuesday 26th February followed by a Q&A with director Marcus Robinson. Tickets are available via the QFT website.