Derry Halloween Festival seeks contributors
---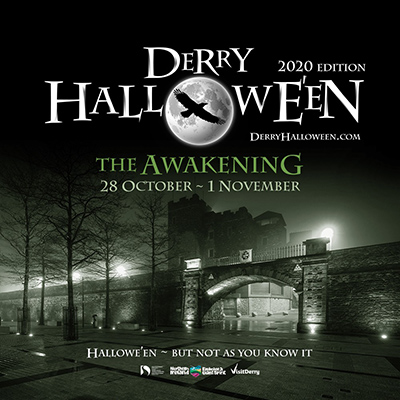 Date Posted: September 14, 2020
Derry Halloween Festival 2020 will run from 28th October – 1st November. This home-grown festival created by the people of the city 34 years ago offers visitors a unique and authentic experience, drawing on the city and districts rich artistic, historical, cultural and architectural offering creating a bespoke, fun and quirky event with wide appeal. The festival enjoys mass support from local people, arts, cultural, business and tourism initiatives from across the region and continues to support the development of new, innovative and imaginative festivals and participative events year on year.
However, with the current pandemic, there has been a significant impact on the festival and this year's programme will run from with a significantly reduced programme of events and a move to more online content.
As a result, Derry City & Strabane District Council is seeking applications from arts and cultural organisations for online programming that deliver an interpretation of this year's theme, The Awakening.
The Awakening acknowledges a festival rooted in Celtic traditions, a world awakening from a time of uncertainty and city with a giant spirit that is full of bespoke, fun and quirky stories still to be shared. This creative vision is to help inform the artistic process.
Successful projects will be supported with £500 – £750 subvention funding. Amounts will be subject to award criteria and the number of organisations that apply.
Artists/organisations are responsible for the production, filming and delivery of the 5-30 minute performance for digital broadcast. This is an estimated timeframe, videos maybe shorter but will be assessed based on content.
For more information and an application form, please email [email protected] no later than 12noon on Thursday 17th September.
Applicants should provide a creative proposal outlining a description of the proposed animation/activities/entertainment/performances and an indication of any proposed fee for the activities, hours available.