Channel 4 sets premiere date for Lisa McGee's Derry Girls
---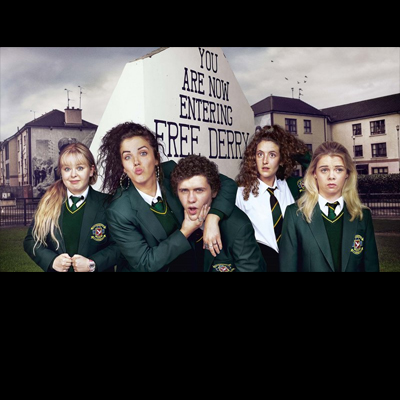 Date Posted: December 12, 2017
New comedy series Derry Girls, written and created by acclaimed Derry woman Lisa McGee (Indian Summers, London Irish, Being Human) will premiere on Thursday January 4th at 10pm on Channel 4, it has been announced.
It's the early 90s, and Erin Quinn and her friends are used to seeing their country on the nightly news and speaking in acronyms (The IRA, The UDA, The RUC). It's a time of armed police in armoured Land Rovers and British Army check points. But it's also the time of Murder She Wrote, The Cranberries, MJ and Lisa Marie, Doc Martens, bomber jackets, The X Files, Nirvana and Wayne's World. And while The Troubles may hang over her home town, Erin has troubles of her own.
Warm, funny and honest, Derry Girls takes a look at the everyday lives of ordinary people living in extraordinary times…
Filmed entirely in Northern Ireland with funding from Northern Ireland Screen with support from Invest NI, Derry Girls stars Saoirse Monica Jackson as Erin who lives with her uncompromising mother played by Tara Lynne O'Neill, her long-suffering father played by Tommy Tiernan and the fearsome 'Granda Joe' played by Ian McElhinney, a man whose love for his daughters and granddaughters is surpassed only by his contempt for his son-in-law.
Terrible with boys and convinced nobody understands her, Erin would love to be a rebel, and sometimes flirts with the idea of standing up to those in authority, like her Principal – the eternally unimpressed Sister Michael (Siobhan McSweeney), or divorcing her parents, à la Macaulay Culkin, but she never quite has the nerve. She has grand ambitions to become a famous writer and thinks of herself as thoroughly liberal and worldly, yet she's never ventured further than Buncrana…
The bane of Erin's existence is her 15-year-old cousin Orla McCool (Louisa Harland) who lives next door with her ditzy mother Sarah (Kathy Kiera Clarke). Whimsical, unpredictable Orla orbits her own planet and thinks nothing of reading her cousin's diary or borrowing her knickers. Equally responsible for Erin's inability to better herself are her two best friends – Clare Devlin (Nicola Coughlan), clever, ambitious and, when faced with Sister Michael, an enthusiastic grass, and Michelle Mallon (Jamie-Lee O'Donnell), mouthy, man-hungry and unashamedly offensive. Last and, as far as the girls are concerned, very much least, is Michelle's cousin James (Dylan Llewellyn) – "The English Fella"-  who's just moved to Derry and is the ultimate outsider. Amid concerns that his English accent may cause trouble for him at the boys' school, James is forced to attend the all-girl Our Lady Immaculate College. But as he quickly discovers, the boys' school would have been a much easier ride.
Commissioning Editors for Channel 4 Comedy are Head of Comedy Fiona McDermott and Commissioning Editor Jack Bayles. The series is written by Lisa McGee, Executive Produced by Caroline Leddy (The Inbetweeners, Friday Night Dinner, London Irish), Liz Lewin (London Irish, Crashing, My Mad Fat Diary) and Jimmy Mulville. Produced by Catherine Gosling Fuller and directed by Michael Lennox (Boogaloo and Graham, A Patch of Fog) Derry Girls is a commission for Hatrick Productions and is a showcase of creative talent from Northern Ireland, entirely set and made locally.