Belfast Harbour supports screen industry skills development with launch of creative academy
---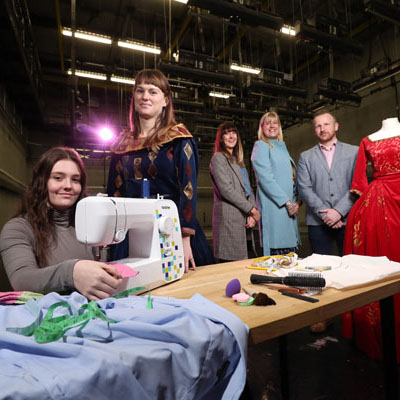 Date Posted: November 19, 2019
Belfast Harbour is supporting a new creative academy for young people aspiring to a career in Northern Ireland's expanding screen industries.
Delivered by the Nerve Centre and supported by Northern Ireland Screen, up to eighty 16-19 year-olds will be able to participate in the Production Design and Film Construction Academy which is now open to applicants.
Participants will have the opportunity to work alongside local talent such as Enda Kenny, a costume designer who worked on Academy Award nominated 'Pirates of the Caribbean' and make-up artist Connie McGrath who worked on the television series 'Krypton' and Paramount Pictures' production of 'The Lost City of Z'.
Successful applicants will also be able to develop industry skills in areas of production design, set construction and design, including painting, carpentry and hairdressing.
The Production Design and Film Construction Academy will run between December and May in two phases. The first phase which will run from November to December offers participants a series of masterclasses and workshops facilitated by industry professionals in areas such as costume, makeup and set decor.
Participants will then be invited to apply for the second phase of the Academy, which will commence in January. This provides young people with the skills to work as part of the art and construction departments on a production of a short sci fi film to be shot in April. The application for the phase of the academy will be released in January.
Joe O'Neill, CEO at Belfast Harbour, said: "As part of Belfast Harbour's strategic ambition to establish Northern Ireland as a leading European creative and media hub, we have already invested £20m in the Belfast Harbour Studios which opened in 2017 and have committed £35m to expand the facilities.
"We believe that this new academy, which we are supporting with Northern Ireland Screen and the Nerve Centre, will be a great starting point for those seeking to develop a career within the sector and help ensure that young people have the right skills to access the many and varied job opportunities that the screen industry offers".
Belfast Harbour's plans for the expansion of the Belfast Harbour Studios complex at Giant's Park includes six new studios and supporting workshops to complement the existing studios, workshops and production offices.
David McConnell, Education and Careers Manager at Northern Ireland Screen said: "We want more young people coming into this exciting industry and the Production Design and Film Construction Academy is specifically designed to give real, hands-on experience. It is exceptionally important to develop and keep local talent and this programme provides the opportunity for young people to understand the various roles within the industry.
"It's absolutely fantastic that Northern Ireland Screen is taking real, practical steps to bridge the gap between education and industry. Getting young people into real studios and being taught by industry professionals is an opportunity like no other."
Jennifer McAlourm, Screen Academies Manager at Nerve Belfast said: "Building upon the success of the BFI Film Academy and the Foundation Academy for Animation, Nerve Belfast intends to provide new entrants with the technical skills, creative opportunities and 'real world' production experience that they need to gain employment within our local screen industries.  This is an exciting programme for young people and we are thrilled to be working with local industry professionals to further develop home-grown talent."
The Academy will run from December 2019 at Nerve Belfast which is facilitated by Flax Art Studios at Havelock House.
Young people can apply now by visiting Nerve Centre's website.
PHASE ONE
This is an opportunity to learn about the job role, departments, what it is like to work on a film production and what skills are need to pursue a job in the industry.  See dates below, once you apply you will be sent a link to book your place on however many masterclasses you would like to attend.  Working in the film industry is a collaborative process so understanding how each department works will definitely benefit you in your future career.
Intro to the Art Department Art Direction with Barbara Ann Carville Tuesday 3rd December
Who's who in the Art Department with Barbara Ann Carville Wednesday 4th December
Short Film Break Down and Practical with Barbara Ann Carville Saturday 7th December
Costume Design with Enda Kenny Saturday 7th December
Production Design Art Department with Kevin Fraser Tuesday 10th December
Makeup with Connie McGrath Thursday 12th and Friday 13th December