Disney Channel returns to The Lodge as series two begins filming
---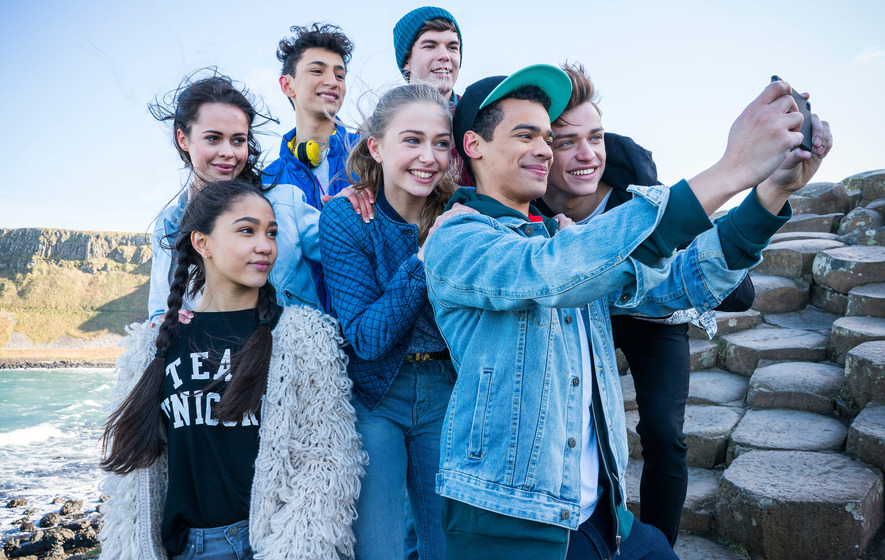 Date Posted: February 21, 2017
Disney Europe Middle East & Africa (EMEA) has announced the start of production for season two of The Lodge. Zodiak Kids Studio will once again produce the music-filled drama.
The Lodge receives funding from the Northern Ireland Screen Fund supported by Invest NI.
Disney's The Lodge became the highest rated series debut on Disney Channel UK in the last four years and accompanying digital content has already received over 14 million views. The show has had strong performances in Germany, Denmark, Sweden and Norway, with other EMEA premieres scheduled for later in 2017.
The Lodge is a life affirming emotional rollercoaster that in the first series saw 15-year-old Skye's journey of self-discovery as she moves from a big city to a new and exciting rural life. The second season will see the core cast face new challenges, attempt to solve a new mystery and navigate emotional relationship and friendship stories.
Returning cast includes British actors Sophie Simnett who plays lead character Skye, Jade Alleyne, Thomas Doherty, Luke Newton, Jayden Revri, Joshua Sinclair-Evans, Bethan Wright; as well as Martin Anzor, Marcus Garvey, French actor Tom Hudson, and Dan Richardson. Mia Jenkins joins the cast as a new series regular.
Music will continue to play a big role in season two with 11 brand new original songs planned, including three even bigger musical numbers which will be available online. Music for the series is overseen by Steven Vincent, Vice President, Music and Soundtracks, Disney Channel, who has previously overseen the development of soundtracks and music exceeding 50 million sales, including the quadruple-Platinum High School Musical and sequels, along with Descendants, Camp Rock and many others. He also supervised the TV music careers of Miley Cyrus, Selena Gomez, Demi Lovato, Jonas Bros, Zendaya, Bridgit Mendler, Ross Lynch, Laura Marano, & Vanessa Hudgens.
Additionally the series will again be supported with bespoke digital content to continue the characters' stories online – giving fans of the series even greater insight into characters and storylines outside of the linear transmission.
Raymond Lau (Dani's Castle CBBC), from Zodiak Kids Studios UK production arm will return to produce the 15 x 22 minute season. Steven Andrew (Secret Life of Boys, CBBC/ABC Australia) and Sue Nott (Coping With Relatives, The Ant & Dec Show) will serve as executive producers, and Lee Walters (Wolfblood & 4 O'Clock Club) will continue on as head writer. Dez McCarthy, Julie Edwards and Max Myers are directors for the series.
David Levine, Vice President, Programming, Production and Strategic Development, Disney Channels EMEA and General Manager, Disney Channels UK & Ireland comments: "It's been great to see our audience embracing The Lodge, both on-air where it became the best rated series debut in four years in the UK, and online, where videos from the series have attracted almost two million views to date. For season two we want to continue to deliver a show with relatable characters and authentic stories, told both on our linear channels and digitally. I'm confident that we're back even bigger, bolder and more exciting than before."
Steven Andrew, Executive Producer on The Lodge comments: "We are thrilled to be back in Northern Ireland making Series 2 of The Lodge for Disney. We have a fabulous cast, a terrific local crew led Producer Ray Lau and definitely one of the most beautiful settings for any children's drama. This year expect mystery, romance, action and adventure. Find out if there really is gold at the the North Star Lodge, and just who did Skye end up picking, Sean or Ben?"