BFI Doc Society Ripple Effect Fund
---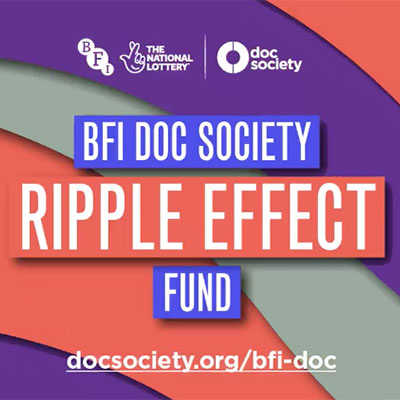 Date Posted: May 17, 2021
The BFI Doc Society Ripple Effect Fund is a new National Lottery funded initiative that enables and empowers communities, networks and organisations to build their own inclusive vision for the independent UK documentary sector from the ground up. If you have new and collaborative ideas to support underrepresented documentary storytellers, to reach diverse audiences or to foster closer connections and amplify the work of grassroots nonfiction champions – tell us what they look like.
The Ripple Effect will be open for one round from Thursday 13th May – Thursday 10th June and offers non-recoupable grants between £5,000 – £20,000 for activities taking place before March 2022.
The Ripple Effect will help kickstart documentary-focused ideas and activities that boost connectivity for documentary filmmakers across the UK, create inclusive opportunities for underrepresented non-fiction voices and develop new audiences.
The goal of the fund is to expand its outreach and support programme by identifying, fostering and supporting the work of independent groups, individuals and organisations who are building communities and opportunities for documentary locally or have a great plan in mind to do so.
The BFI Doc Society will be hosting a fund webinar on Monday 24th May from 5pm – 6pm to take questions from potential applicants.
All the information and guidelines about the fund can be found here: www.docsociety.org/bfi-doc