Northern Ireland filmmakers to have feature film debut released in US
---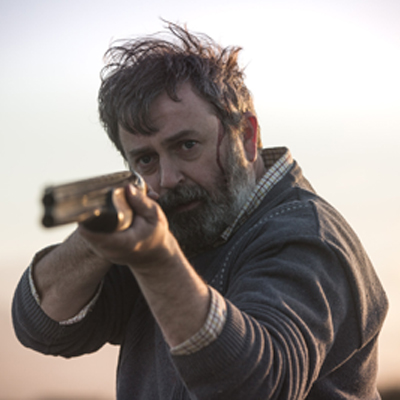 Date Posted: April 7, 2017
Bad Day for the Cut, the feature film debut from writer/director/producer team of Chris Baugh and Brendan Mullin, is to be released in cinemas later this year in North America by Well Go USA following its critically acclaimed World Premiere at the Sundance Film Festival in January.
The film, which will have its homecoming screening closing this year's Belfast Film Festival on Sunday night, follows Donal, a middle-aged Irish farmer who still lives at home his mother, content with a simple life. However, when she is savagely murdered Donal sets off looking for answers – and revenge. What he finds is a world of violence and brutality that he can't understand and a secret about his family that will shake him to his core.
The film stars Nigel O'Neill (The Secret, Game of Thrones) as Donal alongside Susan Lynch (Happy Valley, Monroe), Stuart Graham (The Frankenstein Chronicles, The Secret) and rising stars Jozef Pawlowski (Jack Strong) and Anna Pro´chniak (Warsaw 44).
The screenplay, written by Chris and Brendan, was developed through Northern Ireland Screen's New Talent Focus scheme and shot entirely in Northern Ireland with Chris directing and Brendan producing. Bad Day for the Cut received funding from the Arts Council of Northern Ireland and the Northern Ireland Screen Fund supported by Invest NI.
Chris Baugh and Brendan Mullin, Six Mile Hill, said "Well Go USA release the kind of visceral, international genre films we love to watch so we are incredibly excited that Bad Dad for the Cut has found a home there. We are also thrilled to be playing the closing night gala of the Belfast Film Festival this week. We've had shorts play at Belfast since the start of our career so it feels very satisfying to be coming back with our first feature."
Richard Williams, CEO Northern Ireland Screen, said "I'm delighted that local audiences are going to get an early chance to see Bad Day for the Cut at the Belfast Film Festival. Chris and Brendan have produced a really clever take on a genre movie, grounded in a world that should be very familiar to local audiences. Funded through our New Talent Focus Scheme, Bad Day for the Cut, has already exceeded our expectations by being selected over 1000s of other films for screening at the Sundance Film Festival. We're excited to learn the film will soon be released in US cinemas but it's great for it to be seen locally first."
Belfast Film Festival Director, Michele Devlin, said: "Showcasing new and established talent from across Ireland has always been a focus of our Festival. We've had a very busy opening weekend filled with world class films, Hollywood A-lister calibre guests and passionate debate about all things cinematic. The hottest ticket in town this weekend is the European premiere of Bad Day for the Cut. We are delighted that so many of the cast and crew will be in attendance and anticipate a thrilling finale to this year's Belfast Film Festival."
The UK release for Bad Day for the Cut is TBC.