Fired Up Films' Myth and Mogul: John Delorean on Netflix
---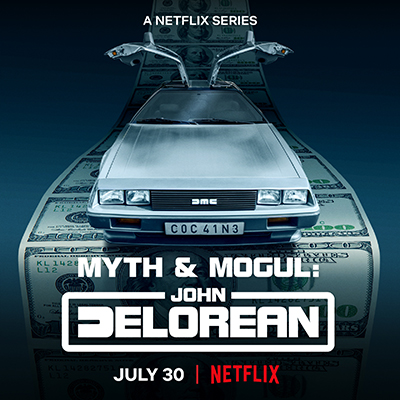 Date Posted: July 27, 2021
Northern Ireland indie Fired Up Films has secured its debut Netflix commission, a limited series investigating the infamous automotive maverick John Z DeLorean who manufactured his iconic gull wing sports car in war torn Belfast in the early 1980's.
The 3-part documentary series Myth and Mogul: John Delorean launches worldwide on the streamer on July 30th following a co-production deal with the BBC. The UK pubcaster funded a 100' film for BBC Two and a 2-part series for BBC Northern Ireland, both aired earlier this year. The Netflix and BBC productions were supported by Northern Ireland Screen who provided co-funding.
Myth and Mogul explores the poster boy of late 1970s corporate greed, delivering a psychological profile of Delorean that combines exclusive access and interviews with never before seen footage shot by Oscar winning director D.A Pennebaker  (Bob Dylan: Don't Look Back).  Epitomising these hubristic times with his grandiose vision of the car of the future, the series will show how John DeLorean came to captivate the world.
Originated by Fired Up Films founder Jon Barrie Waddell after negotiations with Pennebaker Hegedus Films, based in New York, the producer secured access to over 30 hours of rare and unseen material shot with Delorean and his co-workers during the manufacture and launch of the car at the height of 'The Troubles' in Northern Ireland.
With extensive use of unseen archive and news coverage from the period the Netflix series delivers a deep dive into Delorean's rise and dramatic fall from grace, with detailed insight into the early years that shaped the one time automotive 'King of Detroit. First hand testimonies include former wife Cristina Ferrare and son Zachery, friends and work colleagues and investigative journalists Ivan Fallon and Hillel Levin.
The series is directed by Irish filmmaker Mike Connolly (Killing Me Softly – The Roberta Flack Story, Elvis – The Rebirth of the King) and edited by Jake Martin. For Fired Up Films, Executive Producers are Jon-Barrie Waddell and Jonathan Smith. For Pennebaker Hegedus Films, Frazer Pennebaker, Executive Producer and Chris Hegedus, Producer. For eOne, Tara Long is Executive Producer.
Composer Paul Leonard Morgan was brought on board to produce a gritty 1970's soundtrack with Belfast artist Peter Strain providing title and animation sequences for the series.
"The real story of John DeLorean and how his 'American Dream' imploded in Belfast after a botched $30 million coke sting still remains relatively unknown to a global audience" says Fired Up's Jon-Barrie Waddell. "In this psychological study we deconstruct the man like never before – unravelling the deceitful, dark side of a malignant narcissist"
"We're thrilled to have produced this premium content series for Netflix from Northern Ireland, building on the strength of a flourishing local sector here producing shows for the global market" adds Jon-Barrie.
Richard Williams, Chief Executive of Northern Ireland Screen said: 'We are delighted to have been able to support Fired Up Films' first commission for Netflix in association with the BBC and Pennebaker Hegedus Films and look forward to future collaborations.'
Both the BBC and Netflix projects will be distributed by eOne internationally after the holdback period.
In accompanying news Fired Up's BBC Two film, DeLorean: Back From The Future, has been short listed for the prestigious 2021 Grierson Trust Awards in the Best History Documentary category