Here Before to tour Northern Ireland with special Film Hub NI Collective Tour
---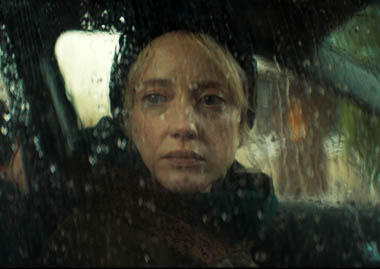 Date Posted: April 28, 2022
Here Before, the debut feature film by Belfast writer and director Stacey Gregg will be touring Northern Ireland in May and June, as part of Film Hub NI's (FHNI) Collective Tour programme which brings local films to local places.
This tense psychological thriller which was written and directed by Stacey Gregg and filmed in Northern Ireland tells the haunting story of a mother's love. Laura (Andrea Riseborough) becomes obsessed by Megan (Niamh Doran) a little girl who moves in next door, believing Megan is her reincarnated child Josie who died several years ago.
It also stars Jonjo O'Neill as Brendan, Laura's husband, Lewis McAskie as her son Tadgh and Eileen O'Higgins and Martin McCann as the new next door neighbours Marie and Chris.
Eight community cinemas will be showing Here Before as part of this FHNI Collective Tour which will run across Northern Ireland, starting in Fermanagh on Wednesday 4th May and ending in Portstewart on Thursday 23rd June.
Stacey Gregg was born in Dundonald, East Belfast, her credits include The Innocents (2018) and Mercy (2018) and she is currently directing a block of The Baby for HBO and in development for a second feature with BBC film. She says: "It's such a pleasure to share the film with audiences across Northern Ireland and I'm delighted Film Hub will be presenting Here Before. There's nothing quite like working with our own immensely talented cast and crew, seeing our landscape and hearing our voices on screen. Looking forward to meeting audiences all over and getting to enjoy cinema together."
Sara Gunn-Smith Marketing and Audiences Officer for Film Hub NI says: "Following on from our recent successful tours of Nowhere Special and Wildfire, we continue our role of bringing amazing local films to audiences right across Northern Ireland with the tense thriller Here Before. With an excellent cast of local actors, alongside the pitch perfect performance from Andrea Riseborough, the film will have you on the edge of your seat. We're so pleased that the hugely talented Stacey will be joining us on some of the dates for a special audience Q&A."
Winner of the Galway Film Festival 2021, Here Before was produced by Julia Godzinskaya and Sophie Vickers for Rooks Nest and co-produced by Chris Martin. The film is financed by BBC Film, Pia Pressure and Northern Ireland Screen and acquired by Wildcard Distribution.
FHNI is part of the BFI Film Audience Network, a UK wide project to ensure that the greatest choice of film is available to diverse audiences across Northern Ireland. The initiative is supported through National Lottery funding, distributed by the British Film Institute.
The full list of FHNI Collective Tour dates and venues is below. For ticket information please visit: https://www.filmhubni.org/now-showing-tags/collective/
| | |
| --- | --- |
| Venue | Date |
| FERMANAGH FILM CLUB | WEDNESDAY 4TH MAY |
| ROE VALLEY ARTS AND CULTURAL CENTRE, LIMAVADY | THURSDAY 12TH MAY |
| NERVE CENTRE, DERRY | WEDNESDAY 18TH MAY |
| ORMEAU COMMUNITY CINEMA, BELFAST | THURSDAY 19TH MAY |
| SUBTERRANEAN COMMUNITY CINEMA, OMAGH | FRIDAY 20TH MAY |
| PORTRUSH FILM THEATRE | THURSDAY 26TH MAY |
| NEWCASTLE COMMUNITY CINEMA | SATURDAY 11TH JUNE |
| FLOWERFIELD ARTS CENTRE, PORTSTEWART | THURSDAY 23RD JUNE |