Ted's Top Ten begins Monday on CITV
---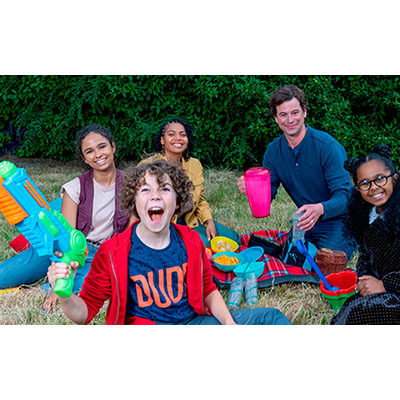 Date Posted: December 3, 2021
Ted's Top Ten, a live action comedy about a ten-year-old slacker tackling life's problems with his own top ten lists, airs weekdays from Monday 6th December at 5:30pm on CITV. Filmed entirely on location in Belfast, 10-part series received funding from Northern Ireland Screen.
Starring newcomer Jake Fitzgerald as Ted with comedian Sam Pamphilon playing his father, Stu, the disaster YouTuber is battling the challenges of a new stepfamily, a new school and his own poor decisions.
The 23-minute episodes follow Ted's attempts to win at life and learn valuable lessons along the way, as he creates lists to chronicle his misadventures, such as 'Top Ten Ways To Get Out Of Detention', 'Top Ten Ways To Pull A Sickie' and 'Top Ten Ways To Ruin A Family Holiday'.
Contending with a new high school, where he receives a frosty welcome from bumbling Deputy Head, Mr Rodman (Ben Addis), he's even less embraced by his new stepsisters, Jada (Maria Goodman) and Bodhi (Tiah Patel). Over the course of the series, Ted and his friends join a cultish choir to get cake, turn a funeral into a mardi gras to get on a rollercoaster and release a horde of angry bees when trying to restage a wedding.
Ted's Top Ten was created by Andy Watts (My Parents are Aliens) and directed by Mustapha Kseibati (Coconut), Dez McCarthy (Birds Of A Feather, Dick And Dom's Funny Business) and Eoin Cleland (Soft Border Patrol). Watts is also the chief writer, with Stephen M Collins, Joe Williams, Joanne Lau, Kirstie Falkous and Rob Evans.
Raymond Lau (Millie Inbetween, Flatmates) produces for Zodiak Kids Studio UK, with Steven Andrews executive producing. Ted's Top Ten was commissioned for CITV by Sasha Breslau, Head of Content Acquisitions for ITV Media and Entertainment.