Stepping-Up scheme launched in Northern Ireland
---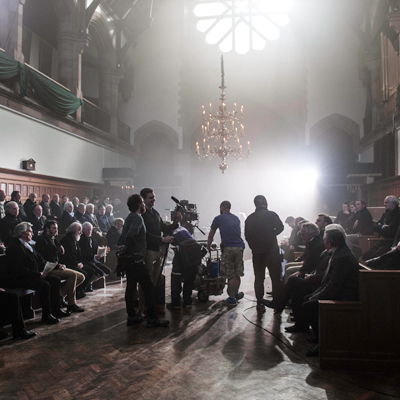 Date Posted: June 23, 2017
Northern Ireland Screen is delighted to announce it is partnering with Creative Skillset to deliver the Stepping Up scheme for high-end TV in Northern Ireland.
The Stepping Up scheme, which is supported by Creative Skillset's HETV Levy, is aimed at crew with at least two years' experience in their current role and who have been identified as ready to move up to the next grade on productions. Those selected to be stepped up will work on high-end TV productions in Northern Ireland and will be supported by Northern Ireland Screen with their career progression through an individual training plan, including access to the Northern Ireland Screen's skills bursary to complete relevant training.
Crew working on ITV Encore's drama The Frankenstein Chronicles, which is currently in production in Northern Ireland, will be the first to benefit from the scheme. A Trainee Editor has been stepped up to Assistant Editor at Yellow Moon in Northern Ireland where post-production for the show is carried out.
Richard Williams, CEO, Northern Ireland Screen, said "The creative industries are delivering growth, employment and innovation. Northern Ireland Screen is continually investing in training and development and we are delighted to deliver the Stepping-Up scheme for Creative Skillset.  Developing the crew base in Northern Ireland remains a key priority for us and there is no doubt that the best training is on the job experience.  This scheme will benefit both the crew members and help us to continue building a dynamic and sustainable screen industry in Northern Ireland."
Greg Darby, Owner, Yellow Moon "This latest scheme is a perfect example of how the public and private sector can come together to enhance the employment prospects of individuals working in the creative industries. Traditionally, stepping up a level has always proved one of the most difficult stages in a trainee's progression – this scheme makes that crucial step a lot easier to take."
Kaye Elliott, High-End TV Lead, Creative Skillset: "The High-End TV Drama Levy is proud to support the development of talent at all levels within the HETV industry. Our funds not only support innovative training programmes to develop talent and crew for indigenous high-end drama production, but also for international shows filming in the UK. We are delighted to partner with Northern Ireland Screen on this Stepping Up programme, and look forward to helping many individuals progress their career within the industry in Northern Ireland."