Sixteen South's Wildwoods Commissioned by RTE
---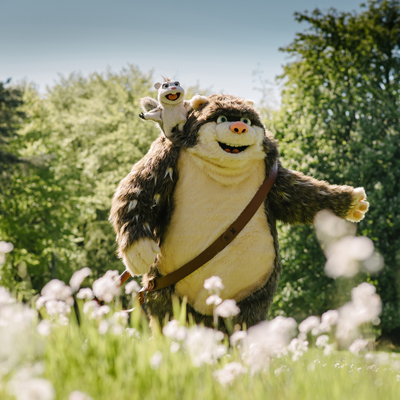 Date Posted: May 24, 2017
BAFTA Independent Production Company of the Year – Belfast-based studio Sixteen South – has announced today that RTÉ is the lead broadcaster for its new live action children's sitcom, WildWoods.  The show, targeted at kids aged 4 to 7, has just begun filming and will premiere in the autumn.
WildWoods, which is currently in production in Northern Ireland, is funded by Northern Ireland Screen via Invest NI.
WildWoods is a live action comedy series which is being filmed in beautiful forest locations and aims to encourage children to take a digital break and rediscover the great outdoors.  The 26×11' puppet series is based around the adventures of an odd couple: city-boy Cooper, a 7ft Sasquatch, and nature-loving Poppy, a pint-sized Sugar-glider. In each of the episodes, a simple task usually goes very wrong as Cooper's sheltered indoor existence makes him ill-prepared for outdoor living. Shot in the great outdoors all across Northern Ireland as well as the Republic of Ireland, the real outdoor locations provide a cinematic backdrop that reinforces the series' key messages of appreciating the wonder of nature.
Sixteen South is working closely with Tourism Ireland to identify the most incredible filming locations all across the island – clifftops, valleys, mountains and deep forests for Cooper and Poppy to visit and really show off the very best of Ireland.
Colin Williams, Creative Director at Sixteen South said: "We are thrilled to have RTE on board as lead broadcaster for WildWoods.  It's a very special comedy series that's been almost 8 years in the making and features two funny new characters that we hope will encourage children to disconnect from the digital device and reconnect with nature – and the only place to film a show like that it completely outdoors"
The production is funded by Northern Ireland Screen. CEO, Richard Williams, said: "Sixteen South is one of the great success stories of the Northern Ireland screen industry and continually produces quality work. We are delighted that RTE have acquired WildWoods and are excited to see how this ambitious project turns out."
Pauline MacNamara, Executive Producer, Animation and Independent Commissioning YPP, RTE said: "Wildwoods promises to be a luscious comedy treat for RTÉjr viewers. It's a winning combination: the classic odd couple – Cooper and Poppy and the spectacular wild landscapes of Ireland. We're very pleased to be part of this grand-scale puppet project with Sixteen South."
WildWoods will also be heading down under to Australia as the series has been sold to national broadcaster ABC Kids.  WDR is handling worldwide distribution.