Sixteen South's Odo airs on Channel 5's Milkshake!
---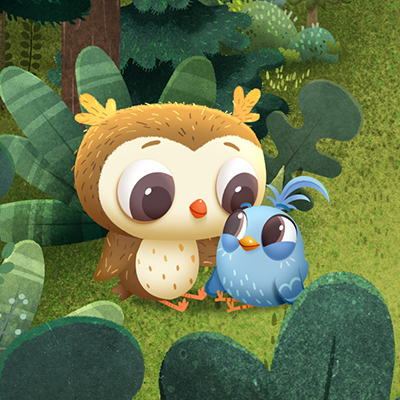 Date Posted: August 20, 2021
Odo, a pre-school programme that follows the adventures of an owl, will air on Saturdays and Sundays at 7:40am on Channel 5's Milkshake! The 52 x 7' hand-drawn 2.5D animation, is a co-production between Sixteen South and Letko and was commissioned with support from the Young Audiences Content Fund, Northern Ireland Screen and the Polish Film Institute.
Odo is a little owl who just can't sleep. Being nocturnal, he should sleep during the day – but Odo is different. To keep him busy while they sleep, his parents send him to the Forest Camp where young birds of all species and sizes come to learn important life skills. Odo doesn't mind being one of the smallest birds there – he's very comfortable in his own feathers – but he does mind being told that he can't do something because he's little. Odo believes that he is capable of anything that he puts his mind to – but his ambitions far outweigh his ability, meaning chaos is never far away.
The series aims to teach young children self-efficacy and to believe in themselves to help combat the alarming rise in anxiety and depression levels in today's children. Comedic and warm, with a genuine gender-free hero, the stories also deal with important themes such as immigration, racism, respect for others, and show kids how to deal with setbacks in a meaningful way while fostering the development of social skills.
The series has also been produced in association with Canal+ and S4C. The Exec Producers are Colin Williams for Sixteen South, Jakub Karwowski for Letko, Sebastian Debertin for KiKA and Louise Bucknole for Milkshake!, John Knowles is Production Executive for BFI/Young Audiences Content Fund and the Educational Consultant is psychologist Natascha N. Crandall, Ph.D.  The series is distributed globally by Sixteen South Rights.