Peppercorns and the Secret of the Deep Sea to be screened at Cinemagic International Film Festival
---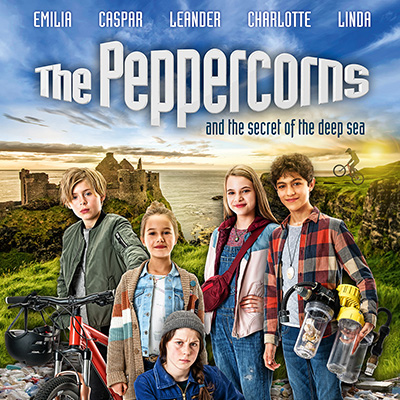 Date Posted: October 1, 2020
Peppercorns and the Secret of the Deep Sea will be available to watch online from Friday 23rd – Thursday 29th October as part of Cinemagic's International Film Festival. The live-action adventure was partly filmed in Northern Ireland with support from Northern Ireland Screen.
12-year-old Alice can hardly believe her luck; she travels to Northern Ireland to spend the holidays with her boyfriend Tarun. But their plans are quickly turned upside down. With the help of their new Peppercorn friends, the unbeatable team of five teenagers find out who is behind the kidnapping of a missing oceanographer who has discovered a means of getting rid of plastic waste in the ocean. A race against time begins to save the oceanographer's life and their future.
This new adventure of the "Peppercorns" is a production by LETTERBOX FILMPRODUKTION (producers Michael Lehmann and Holger Ellermann) in co-production with Nordfilm (co-producer Kerstin Ramcke), the ARD/NDR (NDR Commissioning Editors: Ole Kampovski, Sandra Le Blanc-Marissal), Senator Filmproduktion (co-producer: Sonja Ewers), and with Studio Hamburg UK as the service producer in Northern Ireland (Vivien Muller-Rommel). The project is supported by the Filmförderung Hamburg Schleswig-Holstein, Nordmedia, Mitteldeutsche Medienförderung and Northern Ireland Screen.
Peppercorns and the Secret of the Deep Sea will also screen at The Warsaw International Film Festival (9th – 18th October), Chicago International Children's Festival (13th – 22nd November), and German festivals including Goldener Spatz in Gera and Schlingel in Chemnitz.
The film will be theatrical released in Germany from 11th February 2021.
For more information about the Cinemagic International Film Festival website.
Click HERE to watch the trailer.