The Northman in cinemas now
---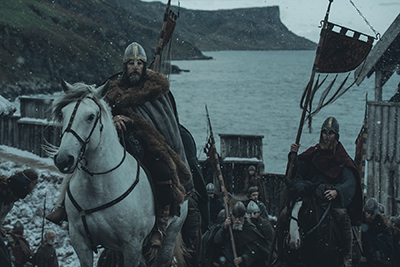 Date Posted: April 15, 2022
One of the most highly anticipated films of the year Robert Eggers' The Northman, opens in cinemas across the UK and Ireland from today (Friday 15th April).  The Northman is an immersive Viking epic like no other featuring an ensemble cast including Alexander Skarsgård, Nicole Kidman, Claes Bang, Anya Taylor-Joy, Ethan Hawke, Willem Dafoe and Björk. Produced by local man Mark Huffam, it filmed on location in Northern Ireland and at Belfast Harbour Studios in 2020, with funding from Northern Ireland Screen.
Young Prince Amleth is on the cusp of becoming a man when his father is brutally murdered by his uncle, who kidnaps the boy's mother. Fleeing his island kingdom by boat, the child vows revenge. Two decades later, Amleth is a Viking berserker raiding Slavic villages, where a seeress reminds him of his vow: avenge his father, save his mother, kill his uncle. Traveling on a slave ship to Iceland, Amleth infiltrates his uncle's farm with the help of Olga, an enslaved Slavic woman — and sets out to honour his vow.
When the UK entered lockdown just days before the film's principal photography was due to start in March 2020, director Robert Eggers and crew quarantined in Belfast rethinking production practises and schedules, devising innovative solutions to Covid-safety challenges, and navigating arrangements with a multi-national cast. With overseas locations off the table due to travel restrictions, the team set out to recreate the Scandinavian look and feel of the film in Northern Ireland, rethinking locations and set building and prepping everything from costumes and props to horse-training and armory-safety during shutdown. The three-month shoot finally began in August 2020 at Belfast Harbour Studios and on location at Torr Head (County Antrim) where a full Viking village was built.
Eggers collaborated with Icelandic poet and novelist Sjón Sigurdsson on the film, drawing inspiration from the original Scandinavian legend that inspired Shakespeare's Hamlet.