Mountain Vets returns for second series
---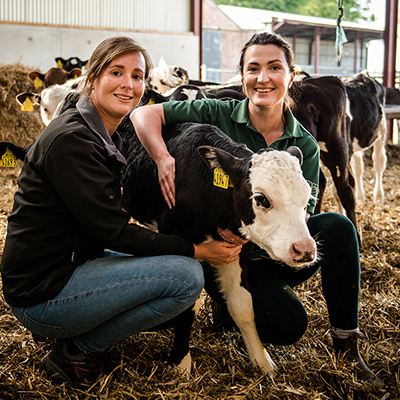 Date Posted: September 28, 2020
Mountain Vets returns to the spectacular Kingdom of Mourne for a second series beginning on Friday 2nd October at 8pm on BBC Two. The six-part series follows the work of nine mountain vets, several nurses and stable hands in two veterinary practices across the Mournes. The series was produced by Rare Television with funding from Northern Ireland Screen.
The Mourne area is well known for its stunning natural beauty and traditional country life, and vets are the lifeblood of this unique community. Viewers will see how the veterinary practices care for a diverse range of animals in clinics, on farms and smallholdings.
In the first episode Cahir races to an urgent call-out form a local pedigree sheep breeder whose prize ewe is having difficulty in labour, Vet Jennie treats a new born lamb who has a broken leg , and Vet Nuala tends to a calf with an infected hoof before she finishes work to get married.
Across the series we meet a loggerhead turtle that has drifted hundreds of miles from its natural habitat, an orphaned seal, a retired show chicken, a lamb with a limp and a mysterious rare animal found on the roadside. All of this combined with the usual struggles of lambing and calving seasons, and care for household pets means there is never a dull moment for the Mountain Vets!
Richard Williams, CEO of Northern Ireland Screen said: "Mountain Vets series one was a big hit and we are delighted to welcome its warm and wonderful characters back for a second series. We are looking forward to hearing what the vets, and pets, are up to one year on. Set in an area of outstanding natural beauty, where animals outnumber people by 10-to-1, viewers all across the UK will also enjoy the stunning scenery of the Mournes. Having such an amazing backdrop attracts an audience in itself."
Edward Hart, Executive Producer of Rare Television said: "The Mournes provided everything; spectacular scenery, a huge range of animals and wildlife, and most of all, the loveliest people. From our extraordinary vets, to the wonderful farmers and pet owners, we're grateful to everyone who welcomed our camera team into their lives. It's this tight knit Mourne community that is the real star of the show. From our producers and directors to our editors and researchers, it was a real pleasure too, to work with so much of Northern Ireland's local production talent."
Mountain Vets airs on Friday 2nd October at 8pm on BBC Two.