Hope Street airs on BBC One NI from Wednesday 24 November
---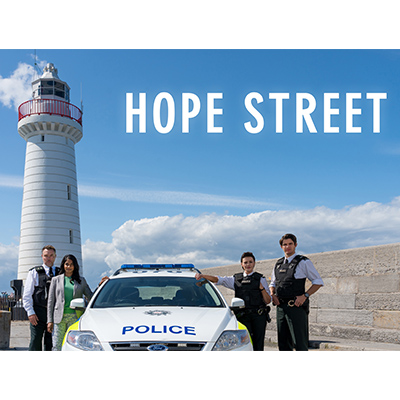 Date Posted: November 18, 2021
New local serial police drama, co-commissioned by BritBox North America, BBC Northern Ireland and BBC Daytime, Hope Street will air on BBC One Northern Ireland on Wednesday 24th November at 7pm. The 10-part series, filmed in Donaghadee, was made with support from Northern Ireland Screen. Set in the fictional town of Port Devine on the Northern Ireland coast, the weekly drama will focus on the town's police department and the mysterious arrival of English Detective Constable.
Leila Hussain, played by Amara Karan (The Night of), the first Muslim police officer in the town's history. With each episode featuring a self-contained crime story, the series will also follow the ups and downs of those working in the police department as they deal with everyday policing in the beautiful seaside town. In the first episode the sudden arrival of English Detective Constable Leila Hussain in picturesque Port Devine sets tongues wagging. Duty Inspector Finn O'Hare, played by Ciaran McMenamin (Primeval), knows the real reason Leila's been transferred, but he's keeping it to himself.
The ensemble cast features actors Brid Brennan (Brooklyn) as Concepta O'Hare, Des McAleer (The Crown) as Barry Pettigrew, Kerri Quinn (Coronation Street) as Sergeant Marlene Pettigrew, Broadway star Rachel Tucker as Siobhan O'Hare, Niall Wright (6 Degrees) as PC Callum McCarthy, Aaron McCusker (Shameless) as Clint Dunwoody and Niamh McGrady (The Fall) as Nicole Devine.
Hope Street is created by Susanne Farrell (Dirty God) and Paul Marquess (London Kills), written by Farrell, Jess Lea (Eastenders), Christine Murphy (Emmerdale) and Stuart Drennan (Hollyoaks), and exec produced by Donna Wiffen (The Bill) and Paul Marquess for Long Story TV. Hope Street will air first on BBC One Northern Ireland and in the new year on BBC Daytime and on Britbox North America.