Dalgliesh airs on Channel 5 this Thursday
---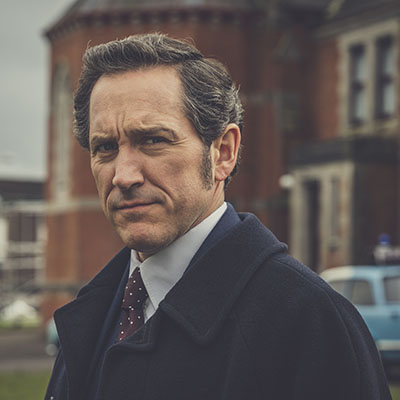 Date Posted: November 1, 2021
New drama series Dalgliesh starring Bertie Carvel (Jonathan Strange & Mr. Norrell, Agatha Christie's The Pale Horse, Doctor Foster) as Inspector Adam Dalgliesh will begin on Thursday 4th November at 9pm on Channel 5 and My5. Filmed entirely on location in Northern Ireland, this new adaptation of P.D. James' international best-selling and much-loved Inspector Dalgliesh Mysteries will consist of three two-part films, each comprising 2 x 60 minutes.
Dalgliesh is an AMC Networks' Acorn TV and Channel 5 commission with Acorn Media Enterprises and All3Media International from leading production company New Pictures (Des, The Missing, Indian Summers) and funding from Northern Ireland Screen.
Northern Ireland directors Andy and Ryan Tohill (The Dig) join lead director Jill Robertson (Trainspotting), and Lisa Clarke (Sandition) behind the camera.
Starting in the mid 1970's England, the exciting new crime series is told from the perspective of P.D. James' uniquely enigmatic detective. Each murder mystery will offer its own unique setting and extraordinary cast.
In the first two episodes, DCI Adam Dalgliesh investigates the death of a student poisoned during a training demonstration at a nursing school.
In episode 3 and 4, Dalgliesh visits an old friend in Dorset, only to discover that he has recently died, as has another resident at the mysterious religious home for the disabled. Too much of a coincidence, Dalgliesh investigates.
Lastly, in episodes 5 and 6, Dalgliesh examines two bodies found in a London church with their throats ruthlessly slashed – a homeless man and a recently-resigned Tory MP.
The lead writer is acclaimed screenwriter and playwright Helen Edmundson (Small Island National Theatre, Inspector Calls BBC). The first two-parter is directed by BAFTA nominated film and television director Jill Robertson (Humans, Grantchester). The series is produced by Georgie Fallon (Criminal, Mum) and executive produced by Elaine Pyke of New Pictures.
In "Shroud for a Nightingale," the young women of Nightingale House are there to learn to nurse and comfort the sick. When one of the students is horribly, brutally killed it is up to Adam Dalgliesh to unmask a killer who has decided to prescribe murder as the cure for all ills. Set on the Dorset coast "The Black Tower" is a dark investigation into a strange home for the disabled where the caring community is not quite as caring as it proports to be. Lastly, in "A Taste for Death," two men lie in a pool of blood at St. Matthews Church Paddington, one is a homeless pensioner, the other a Minister of the Crown, Dalgliesh must dig beneath ugly and dangerous family secrets to bring the murderer to justice.
Also starring are Jeremy Irvine (Mamma Mia! Here We Go Again, Treadstone) as DS Charles Masterson and Carlyss Peer as DS Kate Miskin (Viewpoint, The Feed) plus guest stars including Natasha Little and Steven Mackintosh.
Elaine Pyke, executive producer, explains: "We love the books, and the character of Dalgliesh, he is such a particular kind of detective and there are so many levels and angles to him, he is refreshing. When we approached the estate of PD James, we talked a lot about how we wanted to adapt them. I never wanted to just take the essence and run away with it as I felt the stories were incredibly strong and the crimes cleverly thought through. In some of the stories we are very close to the book and in others it is simply the nature of the format that has made it harder, but I really want to emphasise that we wanted to adapt those books and those stories and felt there was something about their setting in the 70s and early 80s that felt right for now and spoke to this time. Sadly PD James died before we started filming but her daughters and the estate have supported us all the way through. We have made some changes particularly to Dalgliesh's staff, but I hope people will see that we have respected the key elements of the book."
Pyke continues: "Helen Edmundson, our lead writer, is an extraordinary part of this journey. She set the tone with 'Shroud for a Nightingale' and we continue to work on future books together. Helen captured that understated underscore of threat and subtlety between the characters and every scene has brilliant subtext running through it, she sets those worlds and characters wonderfully. We feel lucky to have her on this as she understood those books in a very instinctive way."
Talking about casting Bertie Carvel Pyke says: "Bertie is really wonderful as Dalgliesh. He is able to bring incredible humanity and a great warmth to the role but also a very controlled emotional reaction. He's direct and powerful and as we continued filming, his performance grew and grew. He found lots of subtle, interesting and surprising nuances in the character and I cannot wait to see what he does in series two if we are lucky enough to get another series. I think we have a brilliant new television detective in Bertie."
Producer Georgie Fallon adds: "I think what's special about Bertie is as a viewer he lets you into his performance and you feel part of this world, like you're with him on the journey. You never feel he has sent you off in misdirection but you're with him as a detective as he navigates these stories."
Fallon discusses the challenges of filming during the current climate: "So much of the city was on lockdown and inaccessible to us during filming. Any public building, hospital or university we just couldn't access because of Covid so we had to look further afield and think really broadly. The house we found for the first two-parter is a Victoria building but stuck in the 70s and perfectly preserved in that era. It was an Incredibly lucky find that had been converted but in a higgledy-piggledy way which meant we had creepy corridors and back staircases, a real rabbit warren which leant itself well to the story, felt isolated but a real character.
"The hardest was the last block recreating 1975 London in Belfast when lockdown was starting to lift and becoming busier. What's been really challenging is that we don't stick to one precinct, every two-parter has a special location and new cast. A really exhausting tough shoot for the crew as each film is unique. And that is the real challenge of these books that each one is so different. Dalgliesh is our only constant really…"