BBC Daytime serves a flavour of Northern Ireland's coastline with a whole host of celebrities
---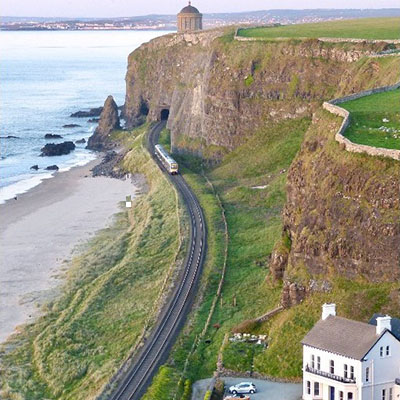 Date Posted: April 15, 2022
As part of the BBC's commitment to its Across the UK plan, BBC Daytime has announced a new co-commission with BBC Northern Ireland that will inject more local culture into the schedules.
B&B By The Sea is set in an authentic guesthouse on the Antrim coast of Northern Ireland and is run by a cast of exciting new talent alongside Great British Menu's chef Alex Greene. The series (15×30 episodes) is made by Afro-Mic Productions with support from Northern Ireland Screen. It will be available on BBC One Northern Ireland, BBC Two and on BBC iPlayer.
Each episode will see a different celebrity guest, all with strong connections to the coast, stay at the B&B, each taking a personal journey of discovery and reflection as they make the most of the region's produce and the restorative location. Celebrities booked into the B&B so far include Richard Blackwood, Linford Christie, Fred Sirieix and Deborah Meaden.
Together with chef Alex Greene and the B&B team, they explore the surrounding regions and local ingredients, before returning to the B&B's kitchen to transform them into dishes that audiences will be keen to try at home.
Carla-Maria Lawson, Outgoing Head of BBC Daytime and Early Peak said: "B&B By The Sea is a further example of Daytime's commitment to work more closely with our colleagues across the UK, bringing authentic representation to screen and strengthening our relationships with suppliers across the nations."
Eddie Doyle, Head of Content Commissioning, BBC Northern Ireland, says: "I'm thrilled that B&B By The Sea has been announced which promises to show off the beautiful coast of Northern Ireland. In the series we will see a different side to some of our favourite celebrities all while they explore the local area of Castlerock, its food and tourism. This co-commission between BBC Northern Ireland and BBC Daytime demonstrates our continued commitment to reflect audiences across the UK."
B&B By The Sea is supported by Northern Ireland Screen and have been commissioned as a result of the successful partnership between the BBC and Northern Ireland Screen. The partnership continues to support the screen industry in Northern Ireland and help ensure that Northern Ireland is better represented to audiences across the UK and internationally.
Richard Williams, Chief Executive of Northern Ireland Screen said: "We congratulate Afro-Mic on its commission of B&B By The Sea which will surely complement the fantastic work that Hope Street does in showcasing our beautiful locations as it takes viewers along the stunning Antrim coast."