Adrian Dunbar's Coastal Ireland on Channel 5
---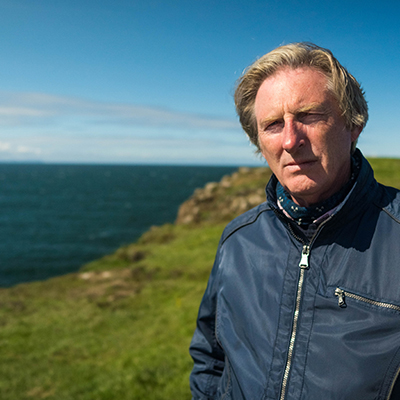 Date Posted: January 28, 2021
Adrian Dunbar's Coastal Ireland, a two-part series where the actor reconnects with his roots as he travels the wild and rugged west and north coasts of Ireland, airs on Thursday 4th February at 8pm on Channel 5. The series was produced by Afro-Mic Production with support from Northern Ireland Screen and Tourism Ireland.
Covering over 600 miles Adrian visits breath taking locations, drives beautiful coastal roads, sees fantastic feats of engineering and tastes amazing cuisine. He meets up with old friends and makes new ones along the way. Adrian shares some of his favourite places and fulfils ambitions as he makes it to locations he's always wanted to see.
Shot during September 2020, with a skeleton film crew as lockdown restrictions eased, Adrian discovered awe inspiring sights, fantastic feats of engineering and of course, caught up with a select group of his old friends along the way.
In episode one, Adrian visits the astonishing Mizen bridge, suspended 45 metres above sea level, and heads to Co. Cork, where old friend Darina Allen makes him lunch at Ballymaloe House. He also fulfils a lifelong ambition to make the treacherous sea crossing to Skellig Islands, where the ruins of an ancient monastic settlement are perched 600 feet above sea.
Episode two takes the viewers to Antrim's North Coast. It's here Adrian finds legends at the Giants Causeway, including motorcycle super star Michael Dunlop. He also visits the serene beauty of the Mourne Mountains, a range of enormous peaks which sweep down into the Irish Sea, where Adrian sums up his journey in style surrounded by the landscape that inspired CS Lewis to create Narnia.