Search For Young Filmmaking Talent for annual Cinemagic Competition
---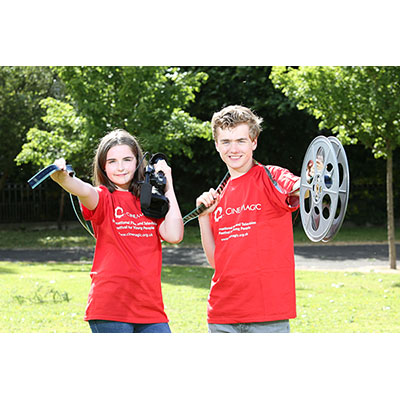 Date Posted: July 23, 2020
Cinemagic Film Festival is looking for imaginative and original films made by young people to be screened online as part of CINEMAGIC YOUNG FILMMAKER 2020. The films can be about anything at all! ­Fact or fiction, comedy or drama, magazine/news style or documentary.
CINEMAGIC YOUNG FILMMAKER 2020 will take place online during the Cinemagic International Film Festival in October. The event will showcase the best short film entries of the year and the festival will also be producing a series of online workshops and masterclasses with renowned members of the film and TV industry. An award and prize will be presented to the Young Filmmaker of the Year in each competition age category – the winning entries will also be screened 'IN COMPETITION' during the Cinemagic International Film Festival for Young People in 2021.
Running for 31 years Cinemagic Young Filmmaker competition has many well-known alumni including – Michael Lennox (Derry Girls), William McGregor (Gwen, His Dark Materials, The Missing, Poldark), Ryan Tohill (The Dig, The Texas Chainsaw Massacre), Andrew Tohill (The Dig, The Texas Chainsaw Massacre) and Lee Cronin (The Hole in the Ground).
Cinemagic's Festival Programmer, Chris Shaw said: "Cinemagic looks forward every year to receiving entries from young filmmakers and we are always so impressed with the standard of filmmaking that we receive. There are many diverse voices to be heard and stories to be told from young people's point of view and we encourage entries from 25 year olds and under, from all backgrounds and levels of experience. The festival fervently supports, and nurtures young filmmaking talent and our competition gives a platform for new and emerging talent to be showcased and celebrated."
To enter please email an online screening link to your film along with an entry form to [email protected].
Alternatively you can submit your entry on DVD. DVD entries (along with the entry form) should be posted to CINEMAGIC YOUNG FILMMAKER 2020, Chris Shaw, Cinemagic, 49 Botanic Avenue, Belfast BT7 1JL.
The competition deadline is 28th August 2020.
PLEASE NOTE: THE COMPETITION IS OPEN TO YOUNG FILMMAKERS AGED 25 AND UNDER LIVING IN THE UK AND IRELAND.
FILMS ARE TO BE NO LONGER THAN 10 MINUTES.
Rules and Regulations can be found here https://cinemagic.org.uk/young-filmmaker/