Northern Ireland short film THE SHORE wins Academy Award®
---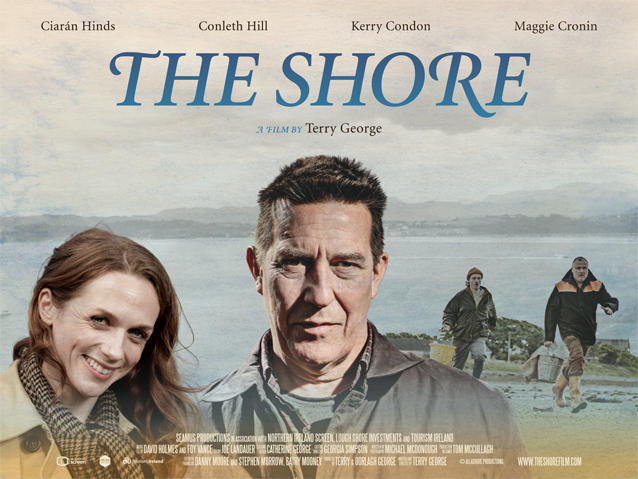 Date Posted: February 27, 2012
The Northern Ireland Screen funded short film, THE SHORE, produced by Terry George and Oorlagh George and written and directed by Terry George scooped the Academy Award® for best Live Action Short Film at the 84th Annual Academy Awards last night.
THE SHORE, which filmed entirely in Northern Ireland on location in Killough last year, is the inspiring story of two boyhood best friends – Joe (Ciarán Hinds) and Paddy (Conleth Hill) – divided by 25 years of misunderstanding.
Their world and their friendship are shattered by the conflict escalating in Northern Ireland. The two boys' lives take very different paths until, 25 years later, Joe returns for the first time to his homeland with his 24-year-old daughter, Patricia (Kerry Condon). In his absence Paddy, his best friend, has married Joe's former fiancée Mary (Maggie Cronin). What happened all those years ago? Can old wounds be healed? The answer is in equal parts hilarious and moving.
Congratulating everyone involved in making THE SHORE on their Oscar® success Richard Williams, Chief Executive of Northern Ireland Screen said;
"Terry and Oorlagh George have done us proud. With their help, the profile of both the film industry in Northern Ireland and indeed the beauty of our place have received a major boost. An Oscar win represents the best possible international industry endorsement for film talent worldwide. Hundreds of thousands of short films are produced every year around the world and for Northern Ireland to win one really underlines the world class talent we have working in the industry here. Terry's The Shore is a beautiful, poignant and funny film. Everyone at Northern Ireland Screen is delighted to have been involved."
Also offering her congratulations, the Culture Minister Carál Ní Chuilín said:
"This is a fantastic achievement by our local film industry. It is wonderful that local talent and hard work is being recognised on the global stage. The reputation of the Creative Industries in Ireland continues to grow and there is certainly much to be celebrated as we approach Creativity Month in March. This month will be an opportunity to highlight events and organisations that contribute to this growing vibrant section of our economy."
Terry is already a double Oscar® nominee, having been nominated for Best Original Screenplay for Hotel Rwanda in 2004 and ten years earlier in 1994 for Best Adapted Screenplay for In the Name of the Father.
Funded by Northern Ireland Screen, THE SHORE also received finance from Tourism Ireland and Loughshore Investments.
The Academy also recognised Ken Branagh, who is Honorary President of Northern Ireland Screen, who received a nomination for Best Supporting Actor for his portrayal of Laurence Olivier in the film My Week with Marilyn.
For those who haven't yet seen THE SHORE Queen's Film Theatre will present a week of special screenings from Friday 2nd – Thursday 8th March.
Watch a clip of THE SHORE on www.northernirelandscreen.tv 27