Derry Girls consolidates as the biggest series in Northern Ireland
---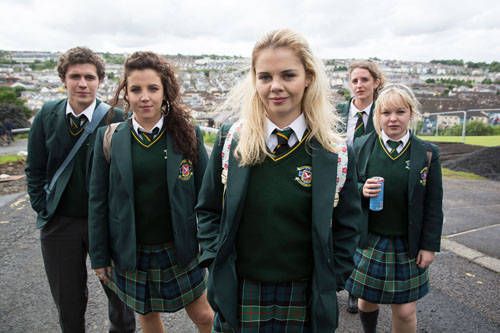 Date Posted: February 21, 2018
Derry Girls has consolidated to become the biggest series ever in Northern Ireland since modern records began in 2002, Channel 4 has revealed.
The comedy, set in the early nineties during The Troubles, averaged with 519k and 64.2% share of the audience. Derry Girls, which received funding support from Northern Ireland Screen via Invest NI, was directed by Northern Ireland's Michael Lennox (Boogaloo & Graham, A Patch of Fog).
The series reached 54% of the Northern Irish TV audience, including 65% of 16-34 year old viewers. Across the UK, consolidated viewing figures reveal that the first series of Derry Girls was watched by an average of 2.5 million viewers, making it Channel 4's biggest comedy launch since 2004.
Lisa McGee, the creator and writer of Derry Girls, said: "Derry Girls is a project very dear to my heart and I'm delighted that so many people have joined us for the ride (no, Michelle, not that sort of ride…). It's particularly special to me that the Northern Irish audience has supported it in the way that they have – I've been blown away by the response to the series and am so excited that we get to do it all again with the second series."
Fiona McDermott, Head of Comedy said: "We are beyond thrilled that not only is Derry Girls our biggest comedy launch series since 2004, but that it is the biggest series ever to air in Northern Ireland! This level of popularity is proof positive that Lisa's crafted not only a proper gem of a comedy but also one which is run through with authenticity and relatability."
Last month Channel 4 announced that a second series had been commissioned by Director of Programmes Ian Katz and Head of Comedy Fiona McDermott.