Creative Skillset's Series Producer Programme is back
---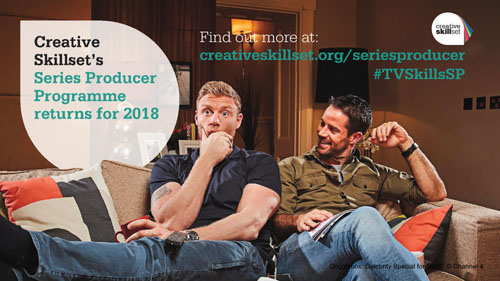 Date Posted: January 2, 2018
Creative Skillset is back to kickstart 20 more Series Producer careers with the prestigious and competitive year-long Creative Skillset Series Producer Programme. The 2018 programme will build on the success of years one and two which saw more than 70% of delegates achieve Series Producer credits. Backed by industry and broadcasters, this programme is funded by the BBC, Channel 4 and Channel 5 through the Creative Skillset TV Skills Fund.
Why do we need a Series Producer Programme?
Making the step up from Producer to Series Producer is a big leap. Research has highlighted the stifling shortage of Series Producers (SPs) right across the country. Creative Skillset aims to help solve this serious skills gap.
Finding the next generation of brilliant and diverse SPs will help the industry win new business and find the hit formats which will travel the world. This programme will develop creative showrunners who will become the cornerstones of UK TV and maintain our reputation as the world's best producers.
This unique programme will offer participants:
Unrivalled training delivered by industry experts (approx. 12-14 days)
Masterclasses with broadcasters
Mentoring by commissioners
Continuous one-to-one support and career advice
'Money-can't-buy' networking 
Access and reduced fees to key industry events and festivals
It is open to new or aspiring SPs who are experienced producers with a minimum of three years' experience at Producer/Director level in factual, features, specialist factual, factual entertainment and entertainment.
The programme will develop delegates' skills in:
Developing and producing innovative TV
Storytelling
People skills and increasing awareness of personal style and impact
Engaging with new audiences, new technologies and new platforms
Promoting diversity in programme making, building diverse teams and unconscious bias
Setting a vision and leading creative teams with confidence to deliver that vision
Maximising social media and digital to promote your brand
Crisis management
Budgeting and scheduling
Resilience and high performance
The programme will build delegates' networks, particularly at channel level.
When does it start and how can I apply?
The programme is open for applications until 12pm on 8 January 2018. The Programme will commence in March 2018.
Applications are encouraged from under-represented groups particularly those from BAME (Black, Asian or minority Ethnic) backgrounds or those with a disability and from delegates right across the UK.
Got a question?
Your question may already have been answered in Creative Skillset's list of Frequently Asked Questions (FAQs). If you have any further questions or would like more information, please email [email protected] or contact Programme Manager Donna Taberer.