Channel 4 commissions second series of Derry Girls
---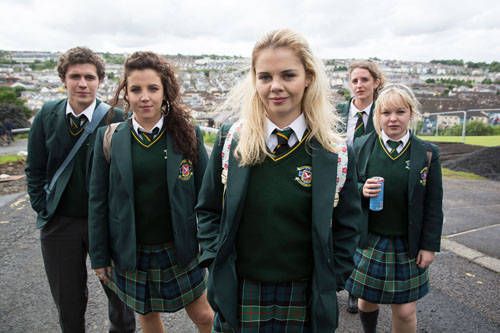 Date Posted: January 11, 2018
The first episode of Derry Girls is Channel 4's the biggest comedy series launch in almost 5 years with 2.5 million viewers so far (part-consolidated after 6 days)
Second series commissioned by Director of Programmes Ian Katz and Head of Comedy Fiona McDermott
Channel 4 has announced that, following the 'class' reaction to the first episode of Derry Girls, which premiered on Thursday 4th January at 10pm, a second 6X30 series has been commissioned by Ian Katz, Channel 4 Director of Programmes and Head of Comedy Fiona McDermott.
The first episode of Derry Girls has so far part-consolidated at a brilliant 2.5 million viewers, with a 13.5% share of audience and more than double the slot average of 16-34 year old viewers. This makes it Channel 4's biggest comedy series launch in almost 5 years. It is also All 4's biggest comedy launch since 2012 (views 0-6 days). Buzzing!
Derry Girls is the creation of acclaimed writer Lisa McGee who has mined her own experiences to create a candid, one-of-a-kind, family-centred comedy set against the backdrop of The Troubles. Derry Girls received funding from Northern Ireland Screen with support from Invest NI. The series follows Erin (Saoirse Monica Jackson), her cousin Orla (Louisa Harland) and friends Clare (Nicola Coughlan), Michelle (Jamie-Lee O'Donnell) and Michelle's tag along English cousin, aka The Wee English Fella, James (Dylan Llewellyn) as they navigate their teens in Derry in the early 1990s. The series also stars Tommy Tiernan as Erin's long-suffering father, Tara Lynne O'Neill as Erin's mother, Ian McElhinney as Granda Joe and Kathy Kiera Clarke as Aunt Sarah. The gang are used to seeing their country on the nightly news and speaking in acronyms (The IRA, The UDA, The RUC). It's a time of armed police in armoured Land Rovers and British Army checkpoints. But it's also the time of Murder She Wrote, The Cranberries, MJ and Lisa Marie, Doc Martens, bomber jackets, The X Files, Nirvana and Wayne's World. Warm, funny and honest, Derry Girls takes a warm and hilarious look at the everyday lives of ordinary people living in extraordinary times.
Ian Katz, Director of Programmes at Channel 4, says: "Derry Girls is a blast of fresh air. It's everything we want from Channel 4 comedy: young, warm, brimming with new talent and rooted in an underrepresented part of the country. And a hit to boot. I'm delighted that we've commissioned a second series and can't wait to see what Lisa does next."
Fiona McDermott, Head of Comedy at Channel 4, says: "It's a real thrill, and a testament to all involved, when a new comedy lands so well with such a broad audience. At the heart of Derry Girls are brilliant comedy characters that feel universal, mischievous and funny so it's wonderful to be able to back it with a second outing so quickly and confidently."
Jimmy Mulville, MD of Hat Trick Productions, says: "We love this show and to be given the go-ahead for a second season after only one episode is a fantastic vote of confidence from the Channel. Other broadcasters could take note!"
Lisa McGee, writer of Derry Girls, says: "I'm absolutely delighted. Derry Girls is such a special project for me and it means so much that the audience have taken to Erin and the gang so warmly. I can't wait to start writing series 2."
The second episode of Derry Girls airs on Channel 4 tonight (Thursday 11th January) at 10pm. If you've missed it so far, you should be broke to the bone. So catch yourself on and get over to All 4.
"joyous…it's one of the funniest things on television this week." – The Observer
"An Inbetweeners for clever girls, it is very funny, the cast are lively and the script is whip smart." – The Sunday Times:
"Bright, charming and full of hard-won nostalgia…with winning performances from its young cast." – iWeekend
Commissioned for Channel 4 by Head of Comedy Fiona McDermott and Commissioning Editor Jack Bayles. The series is written by Lisa McGee. Caroline Leddy (The Inbetweeners, Friday Night Dinner, London Irish), Liz Lewin (London Irish, Crashing, My Mad Fat Diary) and Jimmy Mulville are Executive Producers. Derry Girls is a commission for Hat Trick Productions and is a showcase of creative talent from Northern Ireland, entirely set and made locally.