Celtic Media Festival reveals nominees for 2019 awards
---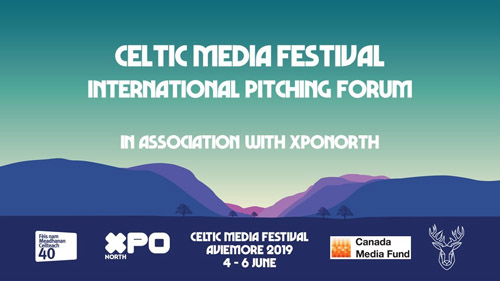 Date Posted: April 3, 2019
Celtic Media Festival reveals nominees for 2019 awards
The Celtic Media Festival has revealed the nominees for the prestigious Torc Awards for Excellence, including several nominations for Northern Ireland talent. The winners are set to be announced at the event's 40th Festival, which takes place 4th – 6th June in the historic setting of Aviemore, Scotland.
Nominees from across the UK, Ireland and Europe will compete across 23 award categories including arts, comedy, current affairs, drama, factual, sport and radio.
Several of the projects nominated at this year's awards have received funding support from Northern Ireland Screen's Irish Language Broadcast Fund (ILBF) including feature film Lomax in Éirinn. The film follows Clannad's Pól Brennan who uncovers the story behind Texan song-collector Alan Lomax's trip to Ireland in 1951. The film, which was made by Aisling Productions for TG4, has been nominated in the Arts Category.
BBC Gaeilge series Ulaidh Faoi Thalamh from DoubleBand Films has been nominated in the Factual Series Category. During the 3-park series, presenter Cormac Ó hÁdhmaill uncovered the hidden spaces beneath the landscape of Ulster including a network of subterranean spaces.
Tír Eoghain: The Unbreakable Bond has been nominated in the Sports Documentary category. The film details the untold narrative behind the most successful minor team in the history of the GAA – the Tyrone 'Class of 1997/1998'.
The documentary was produced by EMM Productions for TG4.
A list of the Northern Ireland talent nominated can be found below. A full list of all the nominees can be found here.
ARTS
Title                                                                 Production Company / Broadcaster
Lomax in Éírinn                                                Aisling Productions Ltd / TG4
COMEDY
Title                                                                  Production Company / Broadcaster
Soft Border Patrol                                              The Comedy Unit / BBC Northern Ireland
FACTUAL SERIES
Title                                                                   Production Company / Broadcaster
Ulaidh Faoi Thalamh                                          DoubleBand Films / BBC2 NI
SPORTS DOCUMENTARY
Title                                                                   Production Company / Broadcaster
Tír Eoghain: The Unbreakable Bond               EMM Productions / TG4
RADIO COMEDY
Title                                                                     Production Company / Broadcaster
A Perforated Ulster                                               Hole In The Wall Productions / BBC Radio Ulster
RADIO DOCUMENTARY
Title                                                                      Production Company / Broadcaster
Scoil Bhríde, 100 Bliain d'Aois                            BBC Gaeilge / BBC Radio Ulster
RADIO MAGAZINE SHOW
Title                                                                       Production Company / Broadcaster
The John Toal Show                                               BBC / BBC Radio Ulster
RADIO SPORTS
Title                                                                      Production Company / Broadcaster
Ón Taobhlíne                                                           BBC Gaeilge / BBC Radio Ulster
RADIO STATION OF THE YEAR
Title                                                                      
BBC Radio Foyle
BBC Radio Ulster