Bridging the Gap: Inspiration Workshop – Belfast
---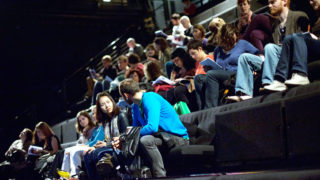 Date Posted: September 1, 2017
Budding documentary filmmakers are invited to participate in a Bridging the Gap Inspiration Workshop in Belfast. The workshop, which is due to take place on Friday 8th September 2017 at 2pm in the MAC, is supported by Northern Ireland Screen.
This free workshop will explain the aims of the scheme and will provide tips on how to improve your chances of being selected. You will also get the opportunity to pitch your short documentary idea informally and receive feedback.
The theme of this year's Bridging the Gap is LOVE.
This is an opportunity to be bold, ambitious and provocative and to define and redefine love through ideas, characters and stories. The inspiration workshop is an opportunity to get the ball rolling and to start dreaming up your idea.
This workshop will include a screening of previous Bridging the Gap films and will be attended by Sean Mullan, one of last year's commissioned filmmakers.
About Bridging the Gap
Bridging the Gap is one of the leading documentary new talent initiatives in the UK, offering intensive training and commission opportunities to emerging UK-based filmmakers. The programme helps filmmakers to develop their 10-minute documentary projects and allows them the chance to work closely with industry professionals.
The films produced to date have enabled the filmmakers to take successful first steps in the industry, picking up awards, BAFTAs, special mentions and festival screenings in 60 countries worldwide.
Event details
Date: 8TH SEPTEMBER 2017
Time: 14:00
Venue: MAC – THE HUB – 10 EXCHANGE STREET WEST, BELFAST BT1 2NJ
To register, click here.