Boys From County Hell in cinemas on 6th August
---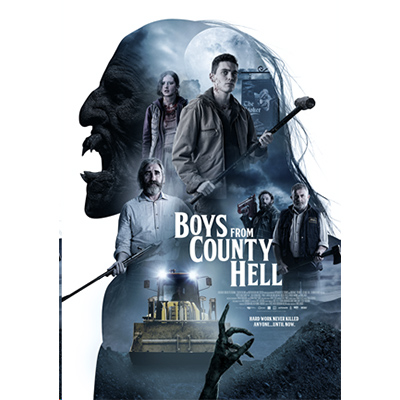 Date Posted: July 30, 2021
Chris Baugh's Boys From County Hell, the ultimate Dracula 'origin story', will open in cinemas across the UK and Ireland next Friday, 6th August.
Filmed entirely on location in Northern Ireland with support from Northern Ireland Screen, Boys From County Hell is a co-production between Six Mile Hill and Blinder Films. Just when you thought the vampire film had been drained dry, along comes an unexpected and original spin on the genre from writer/director Chris Baugh from a story by Baugh and Brendan Mullin.
With a fantastic cast, including Jack Rowan (Peaky Blinders, Noughts + Crosses), Louisa Harland (Derry Girls), Nigel O'Neill (from Baugh's debut), and John Lynch (The Banishing, Isolation), Boys From County Hell is rich in celtic atmosphere, drenched in gore, wildly funny and splendidly scary – the very definition of a crowd pleaser.
Boys From County Hell received its World Premiere in Official Selection in the Midnight section at the 2020 Tribeca Film Festival, and played in the Panorama Fantastic section at Sitges. The film recently played at this year's Virgin Media Dublin International Film Festival.
This is the second feature from Baugh and Mullin following their debut Bad Day for the Cut which was developed and produced via Northern Ireland Screen's New Talent Focus scheme and received its world premiere at the 2017 Sundance Film Festival. In 2012 the duo also made a short film Boys From County Hell which picked up Best Irish Short at the Kerry International Film Festival.
Endeavor Content is handling international sales. The film is a Six Mile Hill / Blinder Films Production, and a Northern Irish / Irish co-production. Endeavor Content is the studio, FIS Eireann/ Screen Ireland and Northern Ireland Screen, in association with Automatik, Egg Studios and Inevitable Pictures.
Synopsis: Welcome to Six Mile Hill, a sleepy Irish backwater whose only claim to fame is the somewhat dubious local legend that Bram Stoker once spent a night in the local pub. It's home to Eugene Moffat, a young man who fills most of his days drinking pints with his friends and pranking tourists who come to visit the gravesite of Abhartach, a legendary Irish vampire some believe to have inspired 'Dracula.'
When a personal tragedy forces Eugene to go and work for his gruff, no-nonsense father he finds himself on the site of a controversial new road development that threatens to destroy the town's livelihood. But strange events unfold when Eugene and the crew tear down a famous cairn believed to be the final resting place of Abhartach and they soon come under attack from a sinister force that has infected one of their workmates. As the night closes in The Boys must fight for survival while discovering the true horror of a myth that hits much closer to home than any of them realise…