Belfast's rich Linen Mill history comes to life through archive footage
---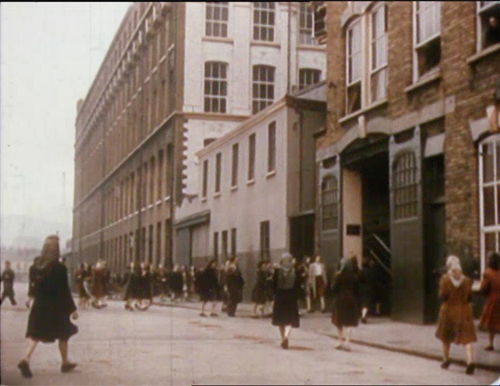 Date Posted: September 25, 2018
Northern Ireland Screen's Digital Film Archive, in partnership with Film Hub NI and Pollen Studio, will celebrate Belfast's historical Linen industry with a live cinema event combining archive footage with performance art. The event, titled 'Practised Hands', takes place at Conway Mill on Thursday 4th October and Friday 5th October as part of the Northern Ireland Linen Biennale. 
It has been over forty years since production ended in Conway Mill and now, as part of this unique event, the Drying Room will become a live cinema where automatic drawing machines and performers work in harmony with archive film of the linen industry from the UTV Archive, PRONI, Tourism NI and the British Film Institute (BFI).
Northern Ireland Screen's Digital Film Archive currently hosts a special collection of online footage showcasing the linen industry in its prime. The collection gives a glimpse into the changing fate of the local linen industry from the fields of flax to the abandoned mills. Highlights include watching unkempt beards emerge as flaxen tresses and a maze of threads form damask linen in propaganda films from 1930s to the 1970s.  
A selection of this archive material will be accompanied by mesmerising live performances on sewing machines from local artists Jayne Cherry and Alice Clark. See the past and present overlap each night as the gestures of current linen workers echo those from decades before.  
Sinéad Bhreathnach-Cashell, Curator, Northern Ireland Screen said: "It is a delight to work with these inspiring artists and Film Hub NI on such a significant project bringing together the past and present in Conway Mill. This is a fantastic event hosted by our Digital Film Archive team for those interested in finding out more about Belfast's linen industry and anyone who would like to experience live cinema. The archive footage screened as part of the event demonstrates the process of creating linen, from field to factory and from the 1930s to the present day. The linen collection, as well as a host of other archive material, is also available to view online on the Digital Film Archive's website." 
Practised Hands has been curated by Sinéad Bhreathnach-Cashell and funded by the BFI Film Audience Network supported by the National Lottery. All tickets to the event are free and available to book online via Eventbrite.
A trailer for the event can be viewed below:
Practised Hands trailer from Northern Ireland Screen on Vimeo.