Belfast Boxer Barnes goes 12 rounds with the Irish language
---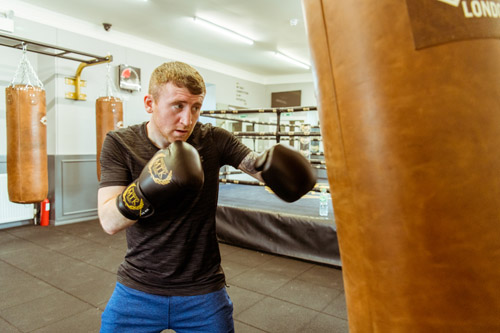 Date Posted: March 7, 2019
Two-time Olympic bronze winner Paddy Barnes has his heart set on a different sort of medal – the Fáinne Airgid, a silver ring-shaped pin given to those with a good level of spoken Irish.
While the north Belfast native has been in Glasgow preparing to climb back into the boxing ring, he's also been gearing up for 12 rounds back home, when he takes his Silver Fáinne exam.
Fir Fáinne (Monday 18 and Tuesday 19 March, 10pm, BBC Two Northern Ireland) follows Paddy as he tries to incorporate learning Irish into his tough training regime and fortnightly trips back to Belfast to see his family.
Produced by Paper Owl Films for BBC Gaeilge with support from Northern Ireland Screen's Irish Language Broadcast Fund, the two-part series also opens a window into the highly-disciplined and often homesick world of a professional boxer as they balance home life and family with the demands of training for a big fight.
Over the course of two programmes, we see Paddy open up about his reasons for wanting to learn Irish – and to embark on more study in general – the importance of his wife Mari and two daughters, the precarious nature of boxing as a career, and his worries and hopes for his family's future.
There are plenty of laughs as well, especially when we join Paddy in the Glasgow 'digs' he shares with friends and fellow boxers, Seán and Tyrone, who try and improve his language skills with encouragement and plenty of craic.
He also visits a primary school at home and a GAA club in Glasgow, where his developing language skills provide lots of entertainment.
"I've been learning Irish for the past 18 months," says Paddy. "It's actually been great fun and it will be unreal if one day I can have an everyday conversation with someone in Irish.
"I don't like to lose or fail at anything, so I'm determined to do this. If I get my Silver Fáinne, I'm going to keep going and learn more and more."
The Fáinne, which means ring, was originally worn by Irish speakers to allow other speakers to identify them and to demonstrate a willingness to speak Irish in their daily lives.
The Silver Fáinne or An Fáinne Airgid is worn by those with a reasonable level of spoken Irish. The exam consists of 12 oral questions.
At the end of the second programme, Paddy takes his Silver Fáinne exam, while at the family home, his nearest and dearest, including long-time friend and fellow North Belfast boxer Carl Frampton, gather to welcome him home and hear the judge's decision.
If you would like to learn Irish, BBC Gaeilge has launched a fun educational resource you can access at home.
In keeping with the boxing theme, Fir Fáinne will be accompanied by a 12-part animated online series which will be published weekly at: www.bbc.co.uk/gaeilge from where you just click through to the animations.
Each part sees animated language coach 'Micí' cover a question on the Fáinne exam, helping the viewer at home learn Irish in a relaxed and enjoyable way.
Fir Fáinne, Monday 18 and Tuesday 19 March, 10pm, BBC Two Northern Ireland, is part of Seachtain na Gaeilge (Irish Language Week) programming from BBC Gaeilge.
---
Déanann Barnes, dornálai Feirsteach, 12 bhabhta leis an Ghaeilge
Tá Paddy Barnes, a bhain dhá bhonn cré-umha sna Cluichí Oilimpeacha, ag dúil go mór le bonn de chineál eile a bhaint – mar atá, an Fáinne Airgid, suaitheantas airgid ar chruth fáinne a bhronntar orthu siúd a bhfuil caighdeán maith bainte amach acu i labhairt na Gaeilge.
Is as Béal Feirste Thuaidh ó dhúchas é Barnes, agus le linn dó bheith i nGlaschú ag ullmhú le dul isteach san fháinne dornálaíochta arís, bhí sé á ullmhú féin fosta le dhá bhabhta dhéag eile a dhéanamh sa bhaile, nuair a dhéanfaidh sé an scrúdú béil leis an Fháinne Airgid a fháil.
Sa chlár Fir Fáinne (Dé Luain 18 agus Dé Máirt 19 Márta, 10 i.n., BBC Two NI), beidh muid ag leanúint Paddy agus é ag iarraidh deis a aimsiú le Gaeilge a fhoghlaim ina chlár crua traenála agus le linn na dturas a dhéanann sé ar ais go Béal Feirste gach dara seachtain lena theaghlach a fheiceáil.
Ba é Paper Owl Films a léirigh na cláir do BBC Gaeilge le tacaíocht ó Chiste Craoltoireachta Gaeilge Scáileán Thuaisceart Éireann. Tugann an tsraith dhá chlár seo léargas dúinn fosta ar shaol an dornálaí ghairmiúil, saol a mbíonn idir fhéinsmacht agus chumha ag baint leis, agus é ag iarraidh freastal ar an dá thrá sin, éilimh an bhaile agus an teaghlaigh agus an gá le diantraenáil a chur isteach do throid mhór.
I rith an dá chláir, beidh Paddy ag labhairt go macánta faoin fháth a bhfuil sé ag iarraidh Gaeilge a fhoghlaim – agus níos mó staidéir a dhéanamh i gcoitinne – cé chomh tábhachtach is atá a bhean chéile, Mari, agus a bheirt iníonacha dó, nádúr éiginnte na dornálaíochta mar shlí bheatha, agus na cúiseanna imní agus dóchais atá aige maidir leis an tsaol atá i ndán dá theaghlach.
Is iomaí cúis gháire atá ann fosta, go háirithe nuair a bhíonn an clár i gcuideachta Paddy sa lóistín atá á roinnt aige i nGlaschú lena chairde agus a chomhdhornálaithe, Seán agus Tyrone, a dhéanann a ndícheall le feabhas a chur ar a scileanna teanga le focail mholta agus le neart craic.
Chomh maith leis sin, tugann sé cuairt ar bhunscoil abhus agus ar chumann CLG i nGlaschú, mar a mbaintear greann agus spórt as na scileanna teanga atá á bhforbairt aige.
"Tá mé ag foghlaim Gaeilge le 18 mí anuas," a deir Paddy. "An-chraic a bhí ann leis an fhírinne a rá agus beidh sé deacair agam é a chreidiúint má bhím ábalta gnáthchomhrá a dhéanamh le duine éigin i nGaeilge lá éigin."
"Ní maith liom nuair a chaillim nó nuair a theipeann orm i rud ar bith, mar sin de, tá mé meáite ar an rud seo a dhéanamh. Má fhaighim an Fáinne Airgid, coinneoidh mé orm agus foghlaimeoidh mé níos mó agus níos mó."
Thosaigh Gaeilgeoirí ar an Fháinne a chaitheamh fadó ó shin, le ligean do lucht labhartha na teanga iad a aithint go furasta agus lena léiriú go raibh siad sásta an Ghaeilge a úsáid ina saol laethúil.
Na daoine a chaitheann an Fáinne Airgid, bíonn leibhéal réasúnta acu den Ghaeilge labhartha. Is é atá sa scrúdú ná béaltriail ina bhfuil 12 cheist.
Ag deireadh an dara cláir, déanann Paddy a scrúdú don Fháinne Airgid, agus ina theach féin, tagann na daoine is ansa leis (a sheanchara agus chomhdhornálaí o Thuaisceart Bhéal Feirste Carl Frampton san áireamh) le chéile le fáilte abhaile a chur roimhe agus le breithiúnas na moltóirí a chluinstin.
Má tá tusa ag iarraidh Gaeilge a fhoghlaim, tá acmhainn spraíúil oideachais seolta ag BBC Gaeilge a dtig leat í a rochtain sa bhaile.
Ag teacht le téama na dornálaíochta, beidh Fir Fáinne á thionlacan ag sraith beochaintí 12 chuid ar líne a fhoilseofar go seachtainiúil ar: www.bbc.co.uk/gaeilge a dtig leat cliceáil tríd chuig na beochaintí uaidh.
I ngach cuid, beidh 'Micí', traenálaí teanga beoite, ag clúdach ceist amháin ar scrúdú an Fháinne, rud a chuideoidh leis an lucht féachana sa bhaile an Ghaeilge a fhoghlaim ar dhóigh shuaimhneach shultmhar.
Is cuid de chláir Sheachtain na Gaeilge (Irish Language Week) BBC Gaeilge é Fir Fáinne, Dé Luain 18 agus Dé Máirt 19 Márta, 10 i.n., BBC Two NI.