BBC Children's commissions a third series of Pablo from Paper Owl
---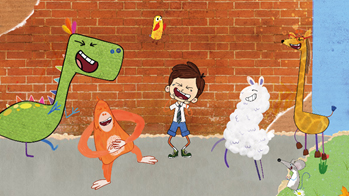 Date Posted: April 4, 2022
Pablo, the BAFTA-nominated, ground-breaking pre-school TV show from production company Paper Owl Films, has been commissioned for a new look series by BBC Children's.
Growing with the audience that have lovingly followed Pablo since series one, this new series depicts its autistic hero, Pablo, as an eight year old stepping into the weird, wonderful and often hilarious world of school.
The announcement comes ahead of World Autism Acceptance Day (2 April) and follows an intensive period of development funded by BBC Children's, NI Screen and CAKE – the show's international distributor.
As Pablo experiences a whole new world at school, the animation style changes. Paper Owl has transformed the original 2D look into a quirky, mixed media style for the new series, echoing the eclectic mix of sounds and textures of the school world.
Within this environment, we see how Pablo experiences each day: as a mixed bag of events and emotions of which he tries to make sense, something most school-aged children, not just autistic children, can relate to.
Through these shared experiences, the show uses humour to build a much deeper understanding and empathy amongst older viewers of the neurodivergent perspective. Pablo encourages all children to laugh together… at how ridiculous the world can be (whether autistic or not), how confusing the social script is and how it could easily be changed to make more sense for everyone!
Grainne McGuiness, Creative Director at Paper Owl Films comments: "This is a standout, funny, action-packed show. Pablo celebrates the autistic kids in your class – and all those who think differently and see the world in different ways. This series is an international comedy that does what comedy does best – breaking down barriers and highlighting the things that need to change for a happier world."
Pablo (series 1 and 2), will also air on CBeebies every day throughout April to mark Autism Acceptance Month.
Kate Morton, Head of BBC Children's Commissioning & Acquisitions 0-6 said: "We're thrilled to welcome Pablo back to CBeebies for a third series. Our young viewers love to watch his adventures unfold and I have no doubt they'll be cheering him on as he begins his schooling journey too."
Ed Galton, Exec Producer and CEO of CAKE Entertainment comments: "Pablo has charmed and inspired audiences all around the world with his original and imaginative perspective reflecting the real-life experience of autistic children. We are very proud to be a part of his next adventure as he navigates the challenges and complexities of school life and the changing world around him."
Richard Williams, Chief Executive of Northern Ireland Screen, said: "We are delighted that BBC has commissioned a third series of Pablo. Not only is this great news for our thriving animation sector, but it also allows Paper Owl to continue the important mission of making autism more widely understood and accepted. We look forward to seeing what new adventures Pablo and his friends embark on when the new series airs."
The first series of Pablo was nominated for a Children's BAFTA (2018) and was a Children's Finalist at the Royal Television Society Awards (2018). It won Best Pre-School Programme at the Broadcast Awards (2019), the TORC Award for Excellence at the Celtic Media Festival (2018) and Best Writer for Pre-School at the Irish Animation Awards (2021).
The first two seasons of Pablo are aired all over the world including on CBeebies, Netflix, Universal Kids (US), CBC Kids (Canada), ABC Kids (Australia), Rai (Italy), Clan (Spain), Mango TV (China), Nat Geo Kids (Latin America) and TV Brasil (Brazil).