BBC Academy's Digital Cities returns to Northern Ireland
---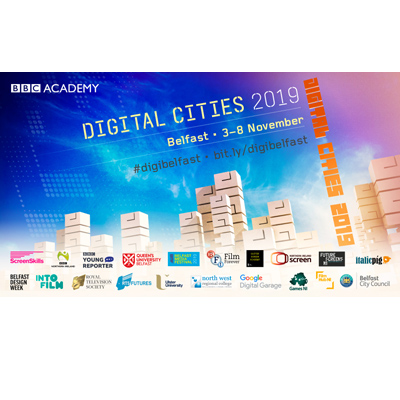 Date Posted: November 1, 2019
Joe Godwin, Director, BBC Academy, says: "Digital Cities Belfast has a wide variety of events and workshops aimed at developing digital content making skills, creating networking opportunities for the creative sector and finding new talent. Now in our third year, I want to thank our partners from across the creative and digital sector who have collaborated to make DigiBelfast happen."
Emma Dunseith, Executive Editor, Music, Arts and Learning BBC Northern Ireland, says: "We are delighted to welcome BBC Academy's Digital Cities back to Northern Ireland and thank our partners for their continued support in making the week such a success. #DigiBelfast brings together the education and creative sectors to celebrate our local industry, develop digital content making skills and create opportunities for new talent."
BBC Academy, supported by BBC Northern Ireland, has teamed up with 17 different partners from across the creative and educational sector in Northern Ireland to create six days of exciting workshops, masterclasses and conference-style events open to anyone working or hoping to work within the creative industries. A number of events will also take place in Magee College and the North West Regional College in Londonderry during the week.
In Magee College, BBC Northern Ireland will launch Ten Chapters Of The Northern Ireland Troubles' with a workshop aimed at 14-22 year olds.
The Ten Chapters, produced by the BBC Rewind editorial and technology team, are online, multi-media episodes covering the period from the 1950s to the 1990s.
The BBC project came about as a result of discussions with the INCORE/CAIN project teams at Ulster University and Queen's University Belfast, and as part of the tripartite agreement between the BBC and the academic institutions. The CAIN team identified ten broad themes which the BBC's Rewind team researched then curated and compiled videos and imagery from BBC News NI's newly-digitised archive. Where appropriate, stills and video from other broadcasters have been incorporated.
Designed primarily for those aged 14 and older, the resource can be used in addition to academic resources. It was created independently by the BBC in line with its editorial guidelines and was reviewed for historical accuracy by INCORE/UU academics. They can be accessed from bbc.co.uk/troubles
Digital Cities Belfast is supported by Screen Skills, BBC Young Reporter, Queen's University Belfast, Belfast Media Festival, Northern Ireland Screen, Film Hub NI, Italic Pig, Belfast Design Week, Into Film, The Royal Television Society, RTS Futures NI, Ulster University, North West Regional College, Google Digital Garage, Games NI and Belfast City Council.
Information on how to apply for tickets for BBC Academy's Digital Cities Belfast is available from BBC Academy.