BBC Academy Digital Cities 20 – 22 October: A series of FREE events for the creative industries.
---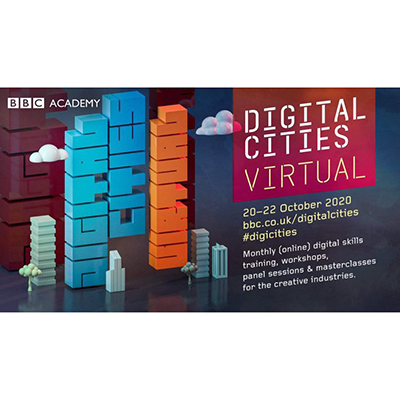 Date Posted: October 15, 2020
Digital Cities Virtual returns next week starting Tuesday 20th October for another three-day series of FREE online skills training, workshops and masterclasses for people working in or interested in TV and related creative industries.
A full and varied schedule will take place on Tuesday, Wednesday and Thursday, with partners including BBC Northern Ireland, BBC Writers room, BBC Academy, BBC Young Reporter, BBC STEM, BFI, ScreenSkills, BBC Arts, Arts Council, Channel 4, University of Ulster, RTS Futures NI and many more.
There will be a chance to find out how BBC Three's Normal People, became the most successful new drama launch in BBC iPlayer history with a social media campaign session, hear from Jannine Waddell, MD (Waddell Media) about the development pitching and commissioning of the lockdown gardening series Gardening Together with Diarmuid Gavin, Sarah Vignoles, Director of Talent Schemes the Edinburgh TV Festival will give a unique insight into what the media is looking for in its graduate starters, and there's the chance to find out more about Occulus with the Birmingham Steamhouse Team.
Discover BBC NI's new digital platform REWIND which showcases its amazing archive; BBC NI in partnership with BBC Arts and Northern Ireland Screen will be giving emerging film makers the opportunity to create their own two minute masterpieces and we'll be exploring the virtual productions of the future with the Ulster Screen Academy.
For those looking to get into the industry, ScreenSkills has a full line up of sessions with information about the latest opportunities, there are opportunities to take tea with BBC NI Head of Content Commissioning Eddie Doyle as well as with Channel 4's 4Studio commissioner Laura Marks and Digital Content Director Janine Smith, and the BBC Academy will be offering a triple bill of training sessions on social media platforms with their Inspired Series – this month its Facebook, TikTok and Instagram.
Visit the Digital Cities Home Page HERE to book now.