AmmA Centre hosts annual BFI Film Academy Showcase
---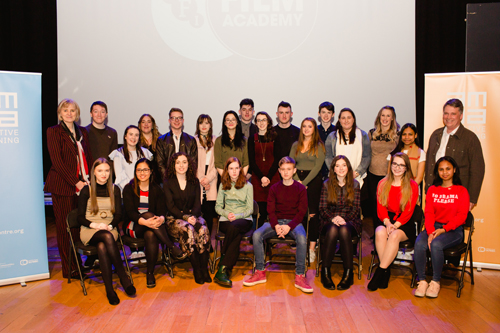 Date Posted: March 29, 2019
Caption: Photo includes Averil Morrow [Head of Professional Learning and Development, EA], Richard Williams [CEO NI Screen], Jo Barnett [Programme Co-ordinator], Diane Jessie Miller [Programme Tutor] and the young people who participated in the programme.
The AmmA Centre, in Armagh, held its annual BFI Film Academy Showcase in the Market Place Theatre recently.  The AmmA Centre has been delivering BFI Film Academy weekly from September 2018 to 21 students aged 16-18 from across the borough.
This programme offers young people the chance to be part of the future film industry.  Participants get hands-on experience in filmmaking and participate in masterclasses with industry professionals, learning what it takes to make it in the film world.  In groups they produced two short films, which were showcased at this event and there was a great turnout of people.  The students also, throughout the 6 months, were working towards gaining an NCFE Award qualification.
A great night was had by all, and a chance for the young people to show off their hard work and skills acquired throughout the programme.