Trad Ar Fad! returns to our screens for a second series
---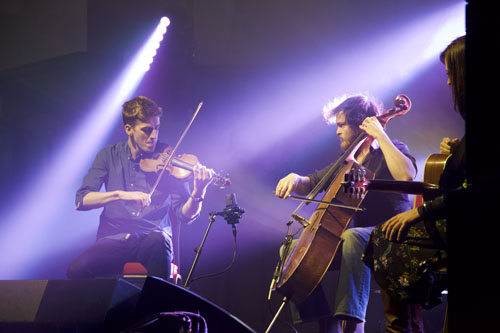 Date Posted: May 11, 2018
Trad Ar Fad! returns to our screens for a second series, this time coming to us from the biggest traditional music festival in Scotland – Celtic Connections. This series will see well-known musician Emma Ní Fhíoruisce from Donegal in her presenting debut. There will be exceptional Irish and Scottish Traditional musicians taking to stage in the stunning Saint Luke's venue as part of the festival. The first episode in the series will be broadcast on BBC Two NI on Sunday 13th May at 10pm.
Trad Ar Fad! was produced by Sonas Productions for BBC Gaeilge with funding from Northern Ireland Screen's Irish Language Broadcast Fund.
In the first programme, we follow Emma on her journey to Celtic Connections in Glasgow as she tells us about the strong link her family has with the city. She also meets with festival director, Donald Shaw to learn more about Celtic Connections and the events taking place. We will hear exciting new music from LAU and Snuffbox, as well as extraordinary singing from Aoife Scott.
The second programme will feature Méabh and Tiarnán Smyth from Armagh competing at the Danny Kyle competition, Emma will also spend time with her close friend Megan Nic Ruairí, wandering around the musical city. Declan O' Rourke will also give us a taste of his new music.
In the third programme, Emma gets the opportunity to meet Coleraine musician Damien O' Kane as he prepares for his gig at the festival. She will also sample some of the festival highlights with ÍMAR's Mohsen Amini and there'll be performances from Daoirí Farrell and Cara Dillon.
In the last programme of the series, Emma attended the BBC Radio Scotland Young Traditional Musician of the Year competition. She had the opportunity to speak to some of the musicians backstage as they prepared, as well as getting the chance to congratulate this year's winner as they came off stage. Music by young pipers Jamie Murphy and Brighde Chaimbeul will feature in this programme, as well as an enchanting song from Hannah Rarity, and a strong lively finish from the young energetic band, Moxie.
---
Trad ar Fad! ag filleadh don dara shraith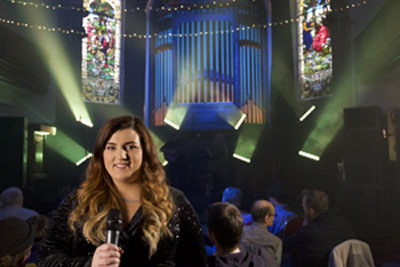 Tá Trad Ar Fad! ag filleadh ar ár scáiléain don dara sraith. An iarraidh seo, beidh sé ag teacht chugainn ón fhéile cheoil is mó in Albain – Celtic Connections.  Sa tsraith seo, beidh an ceoltóir as Tír Chonaill, Emma Ní Fhíoruisce, mar láithreoir den chéad uair. Beidh ceoltóirí den scoth as Éirinn agus as Albain araon ag bualadh ceoil ar an ardán in ionad Saint Luke's mar chuid den fhéile. Craolfar an chéad chlár sa tsraith ar BBC Two NI Dé Domhnaigh 13 Bealtaine ar 10 i.n.
Ba é Sonas Productions a léirigh Trad Ar Fad! do BBC Gaeilge, le maoiniú ó Chiste Craoltóireachta Gaeilge Scáileán Thuaisceart Éireann.
Sa chéad chlár, beidh muid i gcuideachta Emma ar a turas chuig Celtic Connections i nGlaschú agus inseoidh sí dúinn faoin nasc láidir atá ag a muintir leis an chathair. Buaileann sí le stiúrthóir na Féile, Donald Shaw, le tuilleadh a fhoghlaim faoi Celtic Connections and na himeachtaí atá ann. Cluinfidh muid ceol corraitheach úr ó LAU agus Snuffbox, chomh maith le ceol iontach ó Aoife Scott.
Ar an dara clár, beidh Méabh agus Tiarnán Smyth as Ard Mhacha san iomaíocht ag comórtas Danny Kyle, agus caithfidh Emma roinnt ama lena dlúthchara Megan Nic Ruairí agus iad ar camchuairt thart ar chathair an cheoil. Beidh Declan Ó'Rourke linn fosta le blas den cheol is úrnua uaidh.
Sa tríú clár, beidh an deis ag Emma bualadh leis an cheoltóir Damien O'Kane ó Chúl Raithin, agus é ag ullmhú don gig a bheas aige ag an fhéile. Chomh maith leis sin, beidh sí ag baint sult as cuid de bhuaicphointí na féile le Mohsen Amini ó ÍMAR agus beidh ceol ann ó Daoirí Farrell agus Cara Dillon.
Sa chlar deiridh den tsraith, bhí Emma ag freastal ar chomórtas Cheoltóir Óg Traidisiúnta na Bliana de chuid BBC Radio Scotland. Bhí deis aici labhairt le cuid de na ceoltóirí sa chúlstáitse agus iad ag ullmhú, agus chomh maith leis sin, bhí áiméar aici comhghairdeas a ghabháil le buaiteoir na bliana seo agus iad ag fágáil an stáitse. Beidh ceol le píobairí óga Jamie Murphy agus Brighde Chaimbeul sa chlár, chomh maith le hamhrán draíochtach ó Hannah Rarity, agus le críoch a chur leis, beidh ceol láidir bheoga ó bhanna óg atá lán croí agus fuinnimh, Moxie.