Takeover Film Festival 2018 set to 'take over' QFT screens
---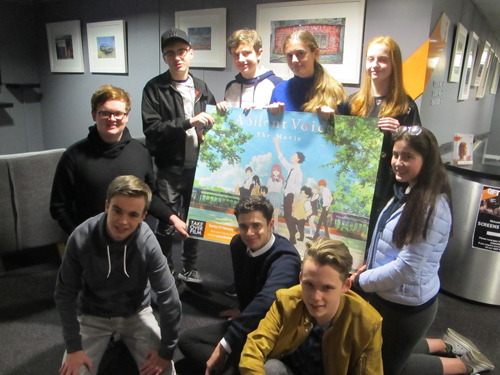 Date Posted: February 14, 2018
The ninth annual Takeover Film Festival organised by QFT's young programmers 'takes over' QFT from Friday 23rd to Sunday 25th February, with an exciting weekend of film previews, popular classics and masterclasses. Aimed at an audience of 15+ years, the Takeover Film Festival is programmed and delivered by the enthusiastic young members of QFT's Takeover Film Club. This year's theme 'Caught in the Crossfire' is reflected in the players of the films who are caught the crossfire of families, countries, the rites of adulthood and even war itself.
The festival kicks off on Friday 23rd February with an exclusive NI premiere of the inspiring new Northern Ireland Screen supported documentary Elián, which shares the remarkable story of Elian Gonzalez who is caught in a custody battle between two nations. Executively produced by Alex Gibney, the screening of Elián is followed by a Q&A with the film's producer Trevor Birney. Elián, received funding from the Northern Ireland Screen Fund supported by Invest NI.
New Head of QFT, Joan Parsons, commented "QFT's young programmers have really excelled themselves this year with the 2018 Takeover Film Festival. They have a real passion for film and have created a programme full of enjoyable films that encourage audiences to consider issues that are extremely relevant to young people today.
We are hugely excited that award-winning Belfast based filmmakers are supporting this programme which will inspire filmmakers and audiences of the future…."
The festival continues on Saturday and Sunday with a packed film programme, including a rare opportunity to see the new visually captivating anime 'A Silent Voice' by female director Naoko Yamada, based on the popular manga series by female author Yoshitoki Oima.
There are two masterclasses suitable for any entry level which are aimed at young people aged 16-25 years who are interested in improving existing or learning new filmmaking skills.
The producing masterclass on Saturday 24th February with Oisin Kearney (researcher and producer on Elián) will focus on producing for documentary film.
On Sunday 25th February award-winning Northern Irish writer and director Stuart Drennan (writer on Hollyoaks and The Breaker) will help budding scriptwriters hone their writing skills for the screen.
In addition to new features and short films the young programmers have included one of their favourite directors Andrea Arnold's work with a screening on Saturday 24th February of 'Fish Tank', about teenager Mia (Katie Jarvis) who escapes the grim reality of family life through dance.
The young programmers were very keen to include classic films that younger audiences will relate to and enjoy seeing on the big screen, probably for the first time, such as Steven Spielberg's classic 'Empire of the Sun' on Sunday afternoon, about a boy who struggles to survive under Japanese occupation during World War II.
The closing film on Sunday 25th February is followed by a discussion with Sian Barber from the Film Studies department at Queen's University Belfast, and links into LGBT History month with the NI premiere of Princess Cyd directed by Stephen Cone, who has created a moving coming of age drama with strong female characters that young women can relate to.
For full details of this year's Takeover Film Festival programme visit takeoverfilm.com.