Royal Television Society announces Northern Ireland Student Television Awards nominees for 2018
---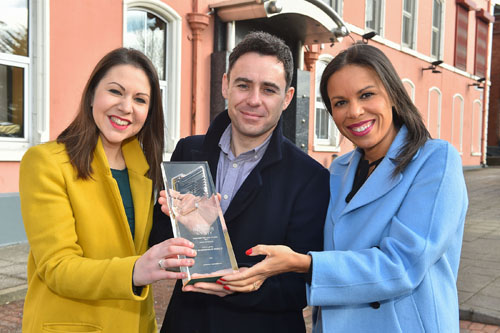 Date Posted: March 9, 2018
UTV reporter Judith Hill will host this year's Royal Television Society Northern Ireland (RTS NI) Student Television Awards which will take place in the Black Box, Belfast on Tuesday 20 March 2018.
Supported by the Department for Communities as part of Creativity Month, the RTS NI Student Television Awards recognise the importance of education within the growing creative industry sector in Northern Ireland.
Kieran Doherty, Chair of RTS NI said: "The RTS NI Student Television Awards are the most respected and sought after educational media awards in Northern Ireland. This is the fifth year of these awards and the standard gets higher each time, highlighting the exceptional talent emerging from our third level colleges.
"As an educational charity these awards help the RTS to raise awareness of the growing
success and innovation of the creative industries as well as providing students with a high profile platform to showcase their work. We are very proud of the strong relationship we have built up with the local colleges, which play a vital role in ensuring our future talent graduate with the necessary skills so they are ready to start work in this exciting and growing industry."
Judith Hill, said: "These awards offer talented media students across Northern Ireland the opportunity to showcase their work to some of the industry's biggest names. Winning an RTS NI Student Television Award will give these winners a high profile within the industry and a prestigious accolade to help them with their future careers."
There are 4 category Awards for Animation, Drama, Entertainment and Factual and the nominees represent all the major media educational establishments including Belfast Metropolitan College; Northern Regional College; North West Regional College, Queens University and the University of Ulster. An additional Craft Award will be presented for the first time at these awards, recognizing particular skill in camera work.
Emma-Rosa Dias, local film maker from Afro-Mic Productions, whose short film was recently nominated for an IFTA Award will be delivering the keynote speech and share her experiences of working in the industry.
Sponsored by Crawford McCann, Stellify Media, Westway Films and Performance Film and Media Insurance, the winners of these Awards go forward to the national RTS Student Media Awards which will be held in London later this year.
Tickets are limited, to register your interest apply here.
A full list of the nominees can be found below.
Animation Category
Hunger: Matt McDyre, Scott Gill, Daniel Boyle, Hannah Loughridge and Hannah Turkington, Ulster University
Life in the 21st Century:  Matt McDyre, Hannah Loughridge, Scott Gill and Hannah Turkington, Ulster University
The Natural World: Felix Surplus, Mark Fergusson, Matthew Smith, Belfast Metropolitan College.
To The Moon: Gianni Francesco De Giuseppe, Rhea Hanlon, Phillip McDowell, Ryan Beatty, University of Ulster
Comedy & Entertainment Category
Death Benefit: John Monahan, Ulster University
Foreign Owl – Flawed: Natasha Curry, Tomala White, North West Regional College
Lights out: Joshua Mark McMillan, Leanne Cox, Niamh Nixon, Benjamin Canning
and Chris Curran, Belfast Metropolitan College
ROE – Etc Etc: Tomala White and Team from North West Regional College
Take It From Me: Meghan Mc Ardle, Nathan Stevenson, Ewan Beckett and Orla Finucane, Ulster University
Train of Thought: Tomas Clawson, Chris Curran from Belfast Metropolitan College
Drama Category
Beast: Writer-Director: Alex Harper; Producer: Ryan Early, Cinematographer: Holly Croman; Editor: Skaiste Gotseldaite from Queen's University.
Blue Funk: Callum O'Hara, Taylor Gilmore, Eve Hanna, Niall Murray
And Jonathan Morrison, Belfast Metropolitan College
In Another Life: Danielle Leslie, Daryl Shields, Rachel Smylie and Ryan West,  Queen's University, Belfast
Isolated: Stephen Healy from Ulster University
Journal: David Harvey, Nathan Emery, Matthew Beggs, Belfast Metropolitan College
Lost: Writer-Director: Caitlin Finlay McGovern; Producer: Louise Kealey, Director of Photography: Conor McGuinness; Editing: Eanna Gilmore; Sound mixer/          designer: Oscar Bradley, Queen's University, Belfast
No Diving: Orla Finucane, Ulster University
Red Brick City: Writer-Director: Mark McNally; Producer: James McBrien, Director of Photography:  Ryan Campbell; Editing: Ryan Humphreys, Queen's University
The earth is dying: Emma Hefferon, Taylor Gilmore, Cherith Montgomery, Felix Surplus
And Tiarna Brennan, Belfast Metropolitan College
White noise: Chelsea-Leigh Purdy, Thomas McQuillan, Aine McCaughley, Lewis Allanm and Katie Bell, Belfast Metropolitan College
Factual Category
David j McMillan: Us Folk: Eve Hanna, Jonathan Morrison, Belfast Metropolitan College
Gender Performance:: Uncut: Pronsais Malocco, Ulster University
Nomad: Zoe Tweedy (writer-director); Joshua McGonigle (editor and co-producer), Queen's University, Belfast
Young Carers: Caitlin Knox, Northern Regional College.