Projects selected for Northern Ireland Screen's New Shorts Focus 2018
---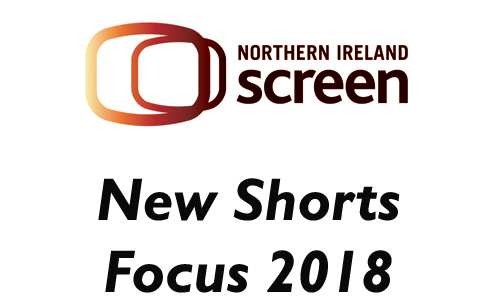 Date Posted: February 22, 2018
Northern Ireland Screen is delighted to announce the five projects selected for its New Shorts Focus scheme 2018.
New Shorts Focus is an initiative set-up to find Northern Ireland resident filmmakers exclusively from groups that are underrepresented in the film and television sector. This includes Females 30+, Disabled applicants, Black and minority ethnic (BME) applicants and Gay/Lesbian/Bisexual and Transgender applicants.
Information on each project, including a synopsis and biography of each writer/director, can be found below:

KELLY
Writer/director: Solene Guichard
Kelly, a 27 years old transgender woman, comes back to her childhood house to help her little sister clean up the house for the removers. Tension is tangible as Andrea still hasn't come to terms with who her big brother, Dylan, has become. Amongst pictures of Dylan and objects that triggers moments long lost, Kelly and Andrea need to clear things up to start anew, like the two sisters they have always been.
Solene Guichard
Solene was born in Langres, France. She always connected with artistic subjects like dance, history of art or fine arts. She moved to Belfast in 2014 to complete a work placement for her bachelor's degree in Film Studies and Philosophy that she was doing in Nancy, France. She then completed a Masters in Film Studies at Queen's University. While in Belfast, she wrote, directed and edited a few films like '5W', my Masters project, and 'Surrealistic Self', one of the BBC Two Minute Masterpiece shorts in 2017.
---
MY FAVOURITE PAUL
Writer/director: Jacinta Owens
Paul wants to be the best version of himself, but his drinking buddies are getting in the way. Paul is a great guy trapped in an average guy's life. He works all week in a call centre and hits the pub every night with his younger workmates, PJ and Oonagh. Now he has the chance to be sent overseas with work, but he constantly self-sabotages by giving in to the lure of after-work drinks. Until one day it all goes a bit too far and he sees he's heading down the wrong path. But can friendship between drinking buddies survive when one goes off the drink?
Jacinta Owens
Jacinta Owens is an emerging Irish screenwriter. Her debut short film script The Boring Diary of Frances Noone won the 2016 RTE/Galway Film Centre short film commission award and will appear on television in January 2018. Jacinta is a previous winner of the Galway Film Fleadh Pitching Award and has had her work produced for BBC Radio. She is currently developing her first feature film script, which has been optioned by Village Films.
---
SKINNY 
Writer/director: Mark Corrigan
On his first birthday since his father's death, sixteen-year-old Eric Robbins struggles to keep the eating disorder he has developed hidden. As his Mum, Elaine sets about having a one on one dinner at home, his secret soon begins to unravel leading to an explosive showdown between mother and son.
Mark Corrigan
Mark is a recent Film Studies graduate from Queen's University in Belfast. Post education Mark has focused on developing his skills in both writing and editing. Prior to participating in New Shorts Focus he took part in a Live Drama workshop hosted by Northern Ireland Screen to continue learning about the creative process. Mark also served as editor and First A.D on local short film "The Prover" which was recently screened at the Queen's Film Theatre as part of the Cinemagic Film Festival. In his spare time, he films and edits weddings and promotional videos for small businesses. This provides him with a creative outlet in between projects as well as a platform to demonstrate his passion for editing. Mark is an enthusiastic, dedicated and energetic individual with the desire to create narratives that highlight underrepresented areas in storytelling.
---
THE PILGRIMAGE 
Writer/director: Niamh McDonagh
Set in the late eighties, The Pilgrimage follows three best friends; rambunctious Marie, dutiful Clara and promising Noirin, during their final mandatory school attendance on a pilgrimage. Already dealing with pious surroundings, their watchful teacher and a belligerent farmer, the girls must also confront the bounds of their friendship as change is brewing.
Niamh McDonagh
Niamh McDonagh was born and raised in Fermanagh before moving to Belfast to study Film Studies. After graduating from Queen's University Belfast in 2015, she has been part of numerous creative projects; most notably the Two Minute Masterpiece Scheme co-ordinated by the BBC Arts Show. Co-written and co-directed by Niamh in 2017, Snapshots follows a young group on a night out in Belfast and features local music. Niamh is a young, creative woman who is passionate about showcasing Northern Irish women and their voices in film, believing that bright and positive representation is the way forward.
---
WISHBONE 
Writer/director: Myrid Carten
What if an anorexic girl wants her friends to save her but can't get better with them? Maggie, a young woman full of fear and hungry for love, is determined not to let her illness, warring friends or the future prove an obstacle in the pursuit of a free 21st birthday at an Irish traditional music festival. Anorexia haunts the party as she asks who can save her and if she wants to be saved. Problems occur when Maggie clashes her pragmatic hometown friend Sadb with her new wild art-school one Penny to decide between a life of conventional 'reality' in Derry or dark adventure abroad. Tensions that emerge during girl make up rituals weave through the Fleadh chaos and climax when a shared plate of chips turns from collective dream to Maggie's nightmare. This leads her to the discovery that no-one can save her from her life-threatening illness but herself. She must change without them. Fortunately, she moves on and asks for help in the right places, learning she has the grit to change but needs an Ireland she calls home for strength. Wish Bone explores anorexia through the effects it has on relationships. Psychological expressive visuals convey Maggie's mindset so anorexia hoovers proactively above the characters without the need to show bones, scales or behaviour tropes. Expansive Irish landscape shots mix with tense claustrophobic surveillance among the girls. The verbal conflicts are the subtext for the unspoken visual one.  Wish Bone subverts the cultural fascination with the emaciated female body to make Anorexia a tone. The longing, fear and addiction of both the relationship and the problem echoes through the Fleadh Cheoil music and setting
Myrid Carten
Myrid Carten lives and makes films in Northern Ireland.  Her shorts have screened internationally in galleries and film festivals.  She was awarded the Joe Cornish's BFI innovation award for screenwriting and selected for Second Light's six-month screenwriting mentorship. Myrid has had work commissioned and broadcast by the BBC. Originally from Donegal, she graduated in 2014 with a BA in Fine Art and History of Art (first class joint honours) from Goldsmiths University of London. She uses this fine art training and viewpoint to inform her work as a director/writer on shorts. Myrid's work in professional camera departments on large-scale dramas and as a freelancer for the BBC means she has a wide understanding of local industry and crews. In 2016 Myrid was awarded the SIAP General Arts Award from the Arts Council of Northern Ireland. She has recently been awarded the Arts Council and British Council International Artists residency to India 2017-18. Myrid has received the Temple Bar Gallery + Studios Project Studio Award for 2018 and the Fire Station Artists Studio Digital Media Award 2018.