New Irish Language show, Na Cuibhrinn, to be broadcast on Sunday
---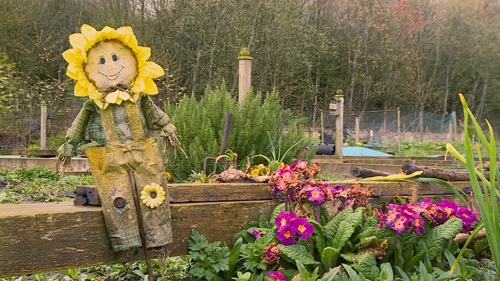 Date Posted: May 16, 2018
From growing your own fruit and veg, to getting out in the fresh air, or even just enjoying your own little patch of green in the middle of the city, having an allotment is recognised as being good for your mental and physical wellbeing.
Between 2008 and 2009, the Colin Neighbourhood Partnership (CNP) began an initiative to provide allotments for the Colin community in west Belfast, following widespread demand for outdoor growing spaces. Since then, the previously derelict 7.5-acre-site has evolved into one of the biggest and most unique of its kind. Home to a number of community, mental health and disability action groups, currently there are 112 separate plots, with amateur gardeners from all cultures and traditions tending to them. And we find out why the place has such a draw for those who tend their patch rain, hail or shine and get an insight into the toils of this tight-knit community.
Na Cuibhrinn (BBC Two Northern Ireland, Sunday 20 May at 10.30pm & Monday 21 May at 10pm), is a fascinating look into the lives of some of the people involved, hearing first-hand about their home life, work and leisure time, and revealing some of the human stories behind this green-fingered group.
Na Cuibhrinn is produced by Imagine Media for BBC Gaeilge with support from NI Screen's Irish Language Broadcast Fund.
Some of the people featured include: fire chief Conall, who grew up in the countryside and moved into the city with his Derry-born wife to raise their three children.
Antoine and his Spanish-speaking Canadian-born wife Elita, who bring their sons to the allotments most weekends regardless of the weather. Elita is hoping to learn Irish at the allotments from its strong Irish speaking community and Antoine has been tasked with taking charge of the plot this year, something that Elita has excelled at to this point.
Colm is local to the area and has had his allotment for six years. He is a proud father to six-year-old daughter Méabhá and he loves nothing more than to get up to his plot with her to work and to play.
Aoibheann is Colm's cousin and she has had her allotment for just over three years. An enthusiastic cook, she likes to grow her own fruit and vegetables, but says that the Colin allotments are not only about food – more about community spirit and atmosphere.
Mickey has had several plots at the Colin site since it first opened. A very active volunteer, he also works for the council, overseeing allotment sites all over Belfast.
We also hear from Fionnghuala, a primary school principal who often brings the school children up to her allotment to experience an outdoor classroom and to learn where food comes from.
The two-part series, made by Imagine Media for BBC Gaeilge gets to the heart of these characters' lives over the course of a year, as they plant their herbs and vegetables and grow as a community themselves in a little known woodland on the edge of Belfast city.
---
Sraith úr Ghaeilge, Na Cuibhrinn, le craoladh Dé Domhnaigh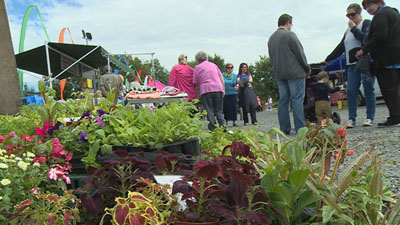 Tá a fhios ag an tsaol mhór a fheabhas atá na cuibhrinn do mheabhairshláinte agus d'fholláine fhisiceach an duine, áit a dtig le daoine torthaí agus glasraí a fhás, am a chaitheamh amuigh faoin aer, nó sult a bhaint as garraí beag glas dá gcuid féin i lár na cathrach.
Idir 2008 agus 2009, chuir Páirtnéireacht Chomharsanacht Chollann (Colin Neighbourhood Partnership nó CNP) tús le tionscnamh le cuibhrinn a chur ar fáil do phobal Chollann in iarthar Bhéal Feirste, mar gheall ar an éileamh ar spásanna garraíodóireachta taobh amuigh. Ag an am sin, ní raibh ann ach 7.5 acra de thalamh garbh tréigthe ach tá forbairt déanta air agus anois, tá sé ar cheann de na háiteanna is mó agus is uathúla dá leithéid. Is le roinnt grúpaí pobail, meabhairshláinte agus gníomhaíochta um míchumas é anois. Faoi láthair, tá 112 ceapóg ar leith ann, agus tá garraíodóirí amaitéaracha ó gach cultúr agus ó gach traidisiún i mbun a saothraithe. Agus foghlaimeoidh muid cén fáth a bhfuil dúil chomh mór sin san áit ag na daoine a shaothraíonn a gceapóga ann, beag beann ar dhea-aimsir nó ar dhrochaimsir agus beidh léargas againn ar obair an phobail dhlúith seo.
Sa chlár Na Cuibhrinn (BBC Two NI Dé Domhnaigh 20 Bealtaine ag 10.30i.n. & Dé Luain 21 Bealtaine ag 10i.n.), tugtar spléachadh thar a bheith spéisiúil ar shaol cuid de na daoine atá páirteach ann, agus cluinfear óna mbéal féin faoin saol teaghlaigh, oibre agus fóillíochta atá acu, agus nochtfar cuid de na scéalta daonna atá taobh thiar den ghrúpa garraíodóirí oilte seo.
Is é Imagine Media a léirigh Na Cuibhrinn do BBC Gaeilge le tacaíocht ó Chiste Craoltóireachta Gaeilge Scaileán Thuaisceart Éireann.
Seo cuid de na daoine atá sa chlár: Conall, ceannasaí de chuid na Briogáide Dóiteáin, a d'fhás aníos faoin tuath ach a tháinig go Béal Feirste lena bhean chéile, a rugadh i nDoire, lena dtriúr páistí a thógáil sa chathair.
Antoine agus a bhean chéile Elita, a rugadh i gCeanada agus a labhraíonn Spáinnis, a thugann a gclann mhac go dtí na cuibhrinn an chuid is mó de na deirí seachtaine, beag beann ar an aimsir. Tá súil ag Elita go bhfoghlaimeoidh sí Gaeilge ón phobal láidir Gaeilge a bhíonn ag freastal ar na cuibhrinn, agus i mbliana, is é Antoine atá freagrach as an cheapóg a shaothrú, obair a dhéanadh Elita chomh sciliúil sin go dtí seo.
Is as an cheantar do Cholm agus tá an cuibhreann aige le sé bliana anuas. Tá Colm iontach bródúil as a iníon sé bliana d'aois, Méabhá, agus is é an rud is fearr leis ná dul chuig an cheapóg léi le bheith ag obair agus ag súgradh ann.
Is col ceathrar le Colm í Aoibheann agus tá cuibhreann aici le corradh is trí bliana.
Is cócaire díograiseach í, agus is breá léi torthaí agus glasraí dá cuid féin a fhás, ach deir sí go bhfuil níos mó ná bia i gceist le cuibhrinn Chollann – is mó an bhaint atá ag na cuibhrinn le spiorad an phobail agus leis an atmaisféar.
Bhí roinnt ceapóg ag Mickey ag an láithreán i gCollann ó osclaíodh é. Is saorálaí thar a bheith gníomhach é, agus chomh maith leis sin, oibríonn sé don chomhairle, ag déanamh maoirseachta ar láithreáin chuibhreann ar fud na cathrach.
Chomh maith leis sin, cluinfidh muid ó Fhionnghuala, príomhoide bunscoile a thugann páistí na scoile chuig a cuibhreann go minic lena fháil amach cad é mar atá sé ranganna a fháil i seomra ranga faoin aer agus cá as a dtagann an bia a itheann siad.
Sa tsraith dhá chlár seo, a rinne Imagine Media do BBC Gaeilge, tugtar léargas domhain ar shaol na gcarachtar seo ar feadh bliana, agus iad ag fás a gcuid luibheanna agus glasraí agus iad féin ag fás mar phobal i gcoillearnach iargúlta ar imeall chathair Bhéal Feirste.