Local drama productions showcased in new ILBF series for TG4
---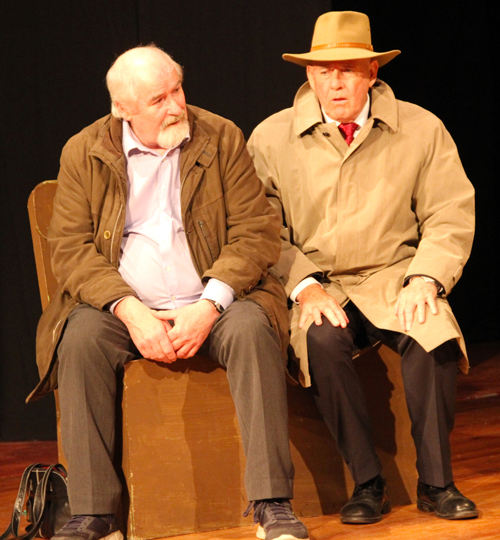 Date Posted: February 20, 2018
A new Irish Language series by Macha Media will showcase a selection of drama clubs as they prepare to stage a production for their local community. Ar Chúl an Chuirtín, which received support from Northern Ireland Screen's Irish Language Broadcast Fund, will broadcast from Thursday 22 February at 8pm on TG4.
The four-part series will follow drama enthusiasts from all over the country; from Cúil Aodha to Gaoth Dobhair and Carlow to Dublin. Ar Chúl an Chuirtín will provide a behind-the-scenes insight into the creative Irish language groups who promote the creative arts within their community.
The series will feature local actors Aisteoirí Mhíobhaigh from Downings, Aisteoirí an Lóchrainn from Carlow, Aisteoirí Chúil Aodha and the Cork University Drama Society as they try to win a place at An Fhéile Náisiunta Drámaíochta. The series also includes the emotional re-opening of Amharclann Ghaoth Dobhair.
This series begins on Thursday 22 February at 8pm on TG4.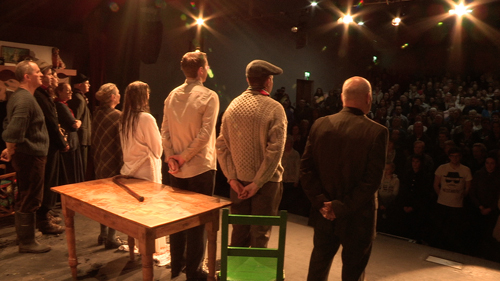 Léiriúcháin áitiúla drámaíochta sa spotsolas i sraith úr CCG do TG4
I sraith úr Ghaeilge le Macha Media, cuirfear meascra clubanna drámaíochta inár láthair agus iad ag ullmhú chun dráma a chur ar stáitse dá bpobail áitiúla. Craolfar Ar Chúl an Chuirtín, clár a fuair maoiniú ó Chiste Craoltóireachta Gaeilge Scáileán Thuaisceart Éireann an Déardaoin 22 Feabhra ag 8i.n. ar TG4.
Sa tsraith ceithre chlár seo, leanfar andúiligh drámaíochta as gach cearn den tír; ó Chúil Aodha go Gaoth Dobhair, ó Cheatharlach go Baile Átha Cliath. Gheofar léargas in Ar Chúl an Chuirtín ar na grúpaí cruthaitheacha Gaeilge sin a chuireann na healaíona cruthaitheacha chun cinn ina bpobail féin.
Leanfaidh an tsraith Aisteoirí Mhíobhaigh ar na Dúnaibh, Aisteoirí an Lóchrainn Ceatharlach, Aisteoirí Chúil Aodha agus an Cumann Drámaíochta i gColáiste na hOllscoile, Corcaigh agus iad uilig ag iarraidh áit ag an Fhéile Náisiúnta Drámaíochta a bhaint amach. Beidh athoscailt chroídhilis Amharclann Ghaoth Dobhair le feiceáil sa tsraith chomh maith.
Cuirfear tús leis an tsraith an Déardaoin an 22 Feabhra ag 8.i.n. ar TG4.