HETV Connect programme
---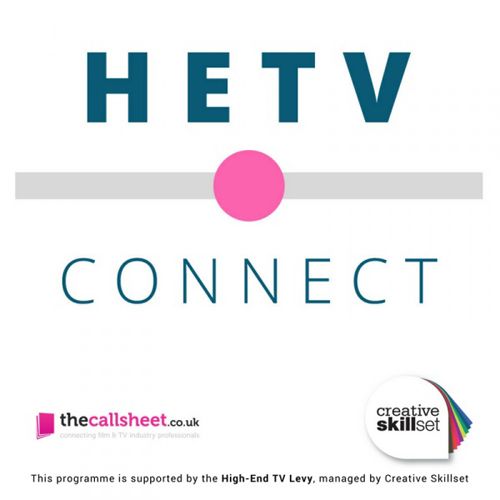 Date Posted: October 3, 2017
The 'HETV Connect' programme launches to integrate High End TV Production Companies with Fresh Production Talent from all over the UK:
Successful Applicants to get One-To-One meetings, Networking Events, Potential Job Opportunities
Creative Skillset, in partnership with thecallsheet.co.uk, announces the launch of HETV Connect – a new programme that aims to draw in fresh production talent from a range of disciplines and geographical regions, providing 'new blood' to High-End TV drama.
The HETV Connect programme is supported by the High-End TV Levy Fund (HETV) and backed by a host of leading High-End TV drama production companies. It aims to address the shortage of skills within the drama television industry, by introducing new talent to production companies – and vice versa, who have not worked with each other previously, to widen the employment pool. Creative Skillset will facilitate this process by offering professionals with a minimum of 2 years' experience working in, or with an ambition to work in high end TV drama, the opportunity to meet High End TV Drama Heads of Production and hirers to widen their professional contacts. The chosen 50 individuals will be announced on 20th October.
The chosen 50 applicants will be given the opportunity to boost their career progression via:
Invitations to attend 2 informal networking events with Heads of Production and Line Producers, and hirers hosted in London in the autumn of 2017 and early 2018
to meet and chat with at least 3 HETV production companies over the following 12 months
thecallsheet.co.uk Membership: An annual, premium membership of thecallsheet.co.uk (worth £180) with access to the pro jobs board and chase list of upcoming productions in development and pre-production
HOW TO APPLY?
Applicants will need to fill out the form at http://www.thecallsheet.co.uk/news/hetv-connect by 6th October – the deadline. (You do not have to be a member of thecallsheet.co.uk to apply)
Applicants who are shortlisted for interview will be notified by 13th October IF they are through to the next stage.
Applicants must be available for interview in the week of the 16th October
 WHO SHOULD APPLY?
Individuals with a minimum of 2 years' industry experience in high-end TV Drama, or equivalent feature film, TV Comedy or Continuing Drama to apply. Please do not apply if you do not have 2 years' experience in one of the listed fields
FOR FURTHER INFORMATION ABOUT HETV CONNECT
Please contact Matt Gallagher at thecallsheet.co.uk via [email protected]
TO APPLY FOR HETV CONNECT
Please click here for more information and the email application form