BBC and Northern Ireland Screen renew successful partnership agreement
---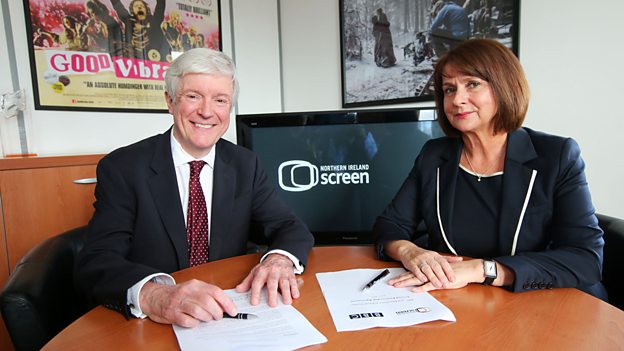 Date Posted: April 5, 2017
Northern Ireland Screen / BBC Partnership Agreement
The BBC and Northern Ireland Screen today renewed their successful partnership agreement, which sees them continue to work together to invest in developing an internationally competitive screen industry in Northern Ireland. A copy of the partnership can be found via the link above.
This second partnership agreement aims to build on the success of the original and will see the BBC commit to spend a minimum of three per cent of the network television budget in Northern Ireland, in line with proposals in Ofcom's draft operating licence.
The agreement will help ensure that Northern Ireland is better represented to audiences across the UK and internationally and will underpin efforts to ensure that network production spend is split across a range of genres, including drama, children's, animation, factual and entertainment, feature documentary and independent film.
The new agreement will also focus on the sustainability and strengthening of the local creative sector.
Tony Hall, BBC Director-General, says: "I am delighted we have renewed our partnership with Northern Ireland Screen. It has been fantastically successful. Who wouldn't want more successes like Line Of Duty and The Fall? I'm looking forward to seeing the future gems it will produce.
"Training is also something I've always cared about. The BBC can make a real difference and Aim High will provide transformative opportunities for new talent in the industry."
Rotha Johnston, Chair Northern Ireland Screen, says: "Northern Ireland Screen believes in combining resources and thinking bigger. The list of projects supported by both the BBC and Northern Ireland Screen illustrates that we are beginning to deliver the scale and stability needed to have a world-class screen industry in Northern Ireland. It also illustrates that through partnership we can lever further additional investment from beyond the BBC and Northern Ireland Screen.
"The importance of this new agreement is that it spans all genres of television, committing both the BBC and Northern Ireland Screen to delivering across factual, independent film and digital as well as children's, documentary and drama.
"The new agreement also acknowledges that skills development is the critical issue for the screen industries right across the UK and commits both the BBC and Northern Ireland Screen to working together to address the skills issues in an urgent and coherent way."
Since the signing of the original partnership agreement in 2015, the BBC and Northern Ireland Screen have successfully collaborated in a range of areas from exciting new network content to skills development. In terms of network television content across genres, the BBC has invested almost £40 million and Northern Ireland Screen invested just over £5 million levering a further £20 million of additional investment on top of the BBC investment.
The BBC and Northern Ireland Screen co-invested in seven drama projects, including The Fall, Line Of Duty, My Mother And Other Strangers and Paula. Line Of Duty, which was last year named BBC Two's most popular drama of the past 15 years, recently moved to BBC One for its current fourth series. A fifth series of the drama has also been announced and will return to Belfast for filming. The BBC is committed to maintaining this level of production with Northern Ireland Screen also committing to continuing their level of support. It is also expected that among the dramas produced will be productions that continue to reflect life in Northern Ireland.
Over the period of the original agreement the BBC and Northern Ireland Screen co-invested in eight Children's and animation projects for CBBC and CBeebies. This includes the series Millie In-Between and the new CBeebies animation series Pablo. Pablo, made by Holywood-based Paper Owl, follows a five-year-old boy on the autistic spectrum. CBeebies Controller Kay Benbow says when she visited the cast, production crew and animators, she commissioned a second series on the spot when she realised the importance and positive impact the series was having on the young people involved and in helping a greater understanding of autism. With a recently appointed Children's Commissioning Executive for Scotland and Northern Ireland, the BBC will work to maintain this level of production with Northern Ireland Screen continuing its support.
The BBC also commits to commissioning at least one potentially returning factual series that portrays Northern Ireland to UK audiences, while the BBC and Northern Ireland Screen will also place a considerable focus on projects that have significant cultural relevance in Northern Ireland during an upcoming period of notable anniversaries. The BBC and Northern Ireland Screen will also join resources to support documentaries and feature documentaries with international appeal.
Both parties are committed to developing the skills of the production sector in Northern Ireland and address any skills shortages. The successful Aim High trainee programme – which has seen many of its alumni go on to work within the sector here – will continue with both parties financing and supporting Aim High 4.
This new agreement will also see the BBC and Northern Ireland Screen: continue to partner to fund Irish Language and Ulster-Scots programming, with a commitment to increase the presence of this output on the BBC's digital platforms; support the Northern Ireland curriculum; and invest in digital innovation.