Brave New World – USA, BBC Two Northern Ireland, Sunday 30 October, 10pm
---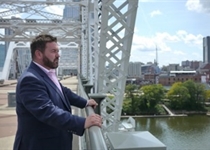 Date Posted: October 24, 2016
In a major new four-part series for BBC Two Northern Ireland, William Crawley travels across America as he uncovers the remarkable stories of men and women from Ulster who helped to shape the democracy, economy and values of the USA in Brave New World – USA, on Sunday 30th October at 10pm.
The series, which received funding from Northern Ireland Screen's Ulster-Scots Broadcast Fund, explores the Ulster migrants and their children who played an extraordinary role in the history of this Brave New World.
Following on from his previous journeys in Brave New World – New Zealand and Brave New World – Canada, this American series sees William undertake a stunning journey that takes him from Maine to California, taking in such iconic locations as Nashville and the Blue Ridge Mountains on the way.
In programme one, William begins his journey in Maine as he retraces the footsteps of families from the Bann and Foyle valleys. Their arrival in New England marked the beginning of mass migration from Ulster to America that would see upwards of 200,000 of their countrymen and women follow them across the Atlantic over the next half century.
He discovers history in the making as he joins a team of archaeologists excavating the site of a log cabin built by one of the first Ulster settlers to Maine in 1718 and meets some of the descendants of those hardy pioneers whose Presbyterian values they credit as having shaped Maine culture today.
Travelling south, William finds out what links Ulster Presbyterians to the Amish community in Pennsylvania, and reveals how an orphan from County Londonderry rose to become a leading campaigner for American Independence and founding father of the United States.
Across the series William retraces the routes taken by waves of Ulster immigrants from the 1700s to the present day, from New England to California. As he follows the Great Wagon road across the Appalachian mountains stories unfold of just how perilous life on the frontier could be, how the music the people from Ulster brought with them reshaped itself in their new home and in the capital of country music, Nashville, Tennessee, he meets a County Antrim musician writing songs about the timeless experience of the emigrant.
Few people know that Pittsburgh, the steel capital of America was home to so many Ulster-Scots – or Scots Irish as they are known there – that it was referred to as the Belfast of America. Viewers may have heard of the multi-millionaire Thomas Mellon who established his first bank in Pittsburgh but less well known is Nellie Bly. A daring undercover journalist with roots in Ulster, Nellie had herself committed to an insane asylum in order to expose its inhumane conditions and became a household name in America when she travelled solo around the world, not in 80 days, but 72!
In the final programme in the series William travels to California, where he finds in James Irvine from Annahilt, County Down a true rags to riches story and he discovers how Nobel Prize winning author John Steinbeck was inspired by his Northern Ireland grandfather to write East of Eden, one of the greatest American novels of the 20th century.
From controversial President Andrew Jackson, who some might call the Donald Trump of his day, to civil rights campaigners and Silicon Valley entrepreneurs this series reveals the diversity of the Ulster-Scots experience in America and their impact upon almost every walk of life in that nation.
Brave New World – USA is a DoubleBand production for BBC NI in conjunction with the Northern Ireland Screen Ulster-Scots Broadcast Fund.